Winter car care: the essential checklist
We're just emerging from the first cold snap of winter 17/18 and many of us have been taken off guard! Whilst we might have enjoyed the snow this weekend, in the cold days that follow we need to ensure our cars are in proper working order so they're capable of dealing with bad weather. Did you know, you're twice as likely to break down in the coldest months? But winter needn't be hell on the roads.
To minimise the risk of breakdown and to cope if the worst should happen and you get stranded, take some time to check your car over and equip it properly so that you can tootle along safely right through until spring.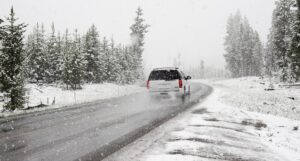 Make a list and check it twice!
1. Check your car battery
Cold or damp weather can put a strain on car batteries because it's harder for the engine to turn over and negatively impacts the level of power that the battery can deliver. If the car battery hasn't been charged for a while, then it could be tired (which only increases the likelihood of car trouble). A good indicator of this is when the battery struggles to provide enough power to start your car – whatever the weather.
You can get a home battery tester, but it's easier to see a specialist.
2. Check screen wash & wipers
During the winter, we spend lots of time using our windscreen wipers because wintry weather is frequently wet. Moisture draws dirt and road salt from the road surface onto your vehicle (that icky film that covers the car from October to March). Worn wipers will smear grime across the windscreen even when used with copious amounts of screenwash. Worse, if your screen wash bottle is empty – even if the wipers are in good condition – you'll be peering through a murky gloom which could be dangerous.
Buy ready-diluted or concentrated screen wash (which you'll need to mix with water) in plentiful supply. Wipers don't cost the earth so it could be handy changing them at the start of the season too.
3. Check exterior lights
It sounds simple because it is. The days are shorter, which means that you'll drive increasingly in the dark. Maintaining your exterior lights is a vital party of driving safely at this time of year.
Salt and dirt can quickly build-up, so clean casings regularly to maintain the brightness of your lights and your visibility to other road users. It might be helpful to learn how to replace the bulbs and carry spares in case of a failure. You don't want to have to learn this lesson in dark, icy and wet weather – trust us, it's a tricky job at the best of times.
Your essential kit list
It's a good idea to have certain items in your car so that you are well-equipped, should disaster strike. Here are some suggestions:
For long journeys, you should always have:
A fully charged mobile phone (Top Tip: download the AA app!)
An in-car phone charger or power pack
Sunglasses
Personal medication
First aid kit
Torch and batteries
Roadside assistance membership card
If you're travelling somewhere new, be sure to have:
A road map in case of diversions
Sat-Nav or a printed route
During the winter, you should ALSO have:
A blanket or sleeping bag
A shovel
Ice scraper and de-icer
Extra screenwash
Snacks – chocolate or cereal bars
A flask of hot drink
Have a back-up plan
If you do get stranded in inclement weather, firstly, don't panic. Remain near your car unless you're completely sure about where you are and how close you are to help.
Once you've contacted roadside assistance or a family member to come and help you, put on extra clothes or wrap yourself in a blanket to keep warm.
If you have plenty of petrol, every hour, run the engine and heater for about ten minutes. It's important to leave at least one window open a crack so that snow and ice don't seal the car shut. Your mouth and throat are likely to get quite dry, so if you can, chew chewing gum or suck on boiled sweets.