Valentine's Day: date night at home
Some people are put off by the perceived commercialism of Valentine's Day, but you don't need to book a table in the fanciest restaurant or shower your beau with lavish gifts to have a memorable day.
Celebrating any day with the one that matters most has got to be pretty great, right? You don't need to spend lots of money on dressing to impress or hitting the town. We think that just putting some thought into a date at home is much more special; you can tailor your time together to suit your personalities, plus enjoy complete privacy.
We've come up with some ideas for a unique, romantic and fun date night. The common theme here is 'low-tech' – we're suggesting you turn off the devices and re-connect with your partner.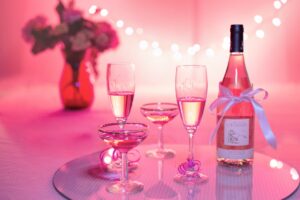 A wellspring of zen
Spa breaks are a favourite with couples when it comes to luxury dates but premium treatments and services are invariably very expensive.
The good news? You can create your own spa at home! It's likely you'll already have most of the supplies you'll need in the bathroom cupboard.
Create your spa space
Create some ambience with low lighting and/or fairy lights, plenty of scented candles and some chilled music (it doesn't have to be whale song!).
Place blankets and pillows on the floor (over a yoga mat for support, if you have one) if you are going to be doing massages here. Sprinkle flower petals around for a luxe touch.
Make sure you have some food to hand. You can have an afternoon tea in the evening, cook a light meal or just have some trays to pick at with fruits, salad, cheese, chocolate etc. Fruit water muddled with mint is extremely refreshing, but then again, so is a cold glass of Prosecco!
Treat yourself!
Choose the treatments that you think you and your partner will enjoy most. Here are some of our top picks:
To detox, try dry brushing to stimulate the lymphatic system and smooth your skin;
For your skin, exfoliate with a scrub. Ocean Salt by Lush is perfect for a spa night as it smells just like the products at a high-end wellness centre!
If doing a face mask, we recommend the L'Oreal Paris Pure Clay Detox Face Mask – it's great stuff that lasts for ages and leaves skin feeling clean and nourished;
For tired feet, buy a couple of cheap washing up bowls and set them up near the sofa. Make a foot soak with honey, apple cider vinegar and a sliced lemon, all stirred into water as hot as is comfortable.
Get a little closer
Give each other a manicure or pedicure. If you ask nicely, they might even paint your toes!
Grab some coconut oil or Wiccy Magic Muscles from Lush as a treat for a muscle-relieving massage;
Relax in a bath laced with scented oils – together or separately – chocolates and fizz are a must.
The winner takes it all
Order a takeaway or prepare all your favourite nibbles – crisps and dips, popcorn and chocolate fingers are a must for this fun-filled date night.
Bring out a couple of games and get close while getting competitive. A word to the wise – if you're extremely competitive, perhaps give this one a miss – it's Valentine's Day, not the finale of the Apprentice!
These are some of our favourite games:
Bananagrams: much more compelling than Scrabble, this anagram game will drive you bananas;
Risk: you'll be in for the long haul with this one, but this military strategy game is so addictive, and there are lots of limited edition versions that feature your favourite movies and TV shows;
Mario Kart: you can't beat a classic video game, and even if you're not most romantic person, the gooey nostalgia of playing retro games will leave you feeling warm and fuzzy;
Final Fantasy: this epic series of video games are legendary for their breathtaking visuals and stunning scores. Is there anything more intimate than blasting away bad guy with your sweet'ums?
Poker: the classic card game. We'll leave it up to you to come up with the stakes…
Cards Against Humanity: not for the fainthearted (or the easily-offended), this card game will teach you everything you ever wanted to know about your better half, and perhaps even more!
A little culture, darling
We all have a natural curiosity for how other cultures live. If you've ever wanted to 'do as the Romans do'… or the French… or the Swedish, why not spend an evening in their shoes? If you love travel as much as us, plan a date night around somewhere you'd love to go together.
Focus on the food, music, art and culture of your chosen country for a really quirky date night. Here are some suggestions:
Russia
Start your foray behind the Iron Curtain with smoked salmon and blinis followed by a classic stroganoff or delicious meat piroshkis, washed down with an ice-cold vodka cocktail or beer.
Stravinsky and Tchaikovsky both make for a regal dinner soundtrack, but Pompeya and Motorama make for a great contemporary twist. After dinner, read out loud to each other from Anna Karenina or cosy up in front of that most romantic of movies, Dr Zhivago.
Italy
Why not try something a little more inventive than Spag Bol? It's Valentine's Day after all! A caprese salad is a light and tasty starter, chicken parmigiana is an easy but impressive main and, of course, anything other than tiramisu for dessert is unforgivable!
Florence is the birthplace of opera, but you don't need to go there to watch one. You don't even need leave home! YouTube features many full length operas for free, all you need to do is cast to your television or use a Smart TV app and search like this.
Sweden
Whilst IKEA meatballs are arguably the best food on the planet (IOHO), Sweden has so much more to offer! Create a smorgasbord of your favourite Scandinavian nibbles: smoked fish, pickles, rye bread, crackers, cured meats and cheeses make a delicious sharing platter.
As well as good food, Sweden has some amazing music too. Go retro and indulge in an Abba rewind evening or get bang up to date with First Aid Kit and José González. Have a go at Lagom (pronounced laaaw-gum), the Swedish practice that's displacing uber-trendy Hygge – with an ethos of 'not too little, not too much… just right', it sounds like the perfect night in to us.
You don't need to spend a small fortune or make a huge gesture to express your love. Whatever you do on Valentine's Day, do it together.