Summer holidays: a family bucket (and spade) list
We're approaching that time of year when parents start wondering, "What are we going to do with the kids this summer?"
Six weeks of being cooped up in the house with the telly or iPads blaring? Everyone will go berserk!
We've got a great idea – write a summer bucket list! Write a list of everything you want to do and everywhere you want to go – we promise you'll do and see more than you ever imagined and the time will fly by.
The hols aren't far away so now's the time to start planning.
To get you started, we've compiled a list of ideas of fun summer activities to keep the kids stimulated, healthy, having fun and absolutely shattered by the end of the day (which means you can enjoy a chilled glass of vino when they're tucked up)!
Add to it your own ideas for places to go and things to see and you have your ultimate family summer bucket list!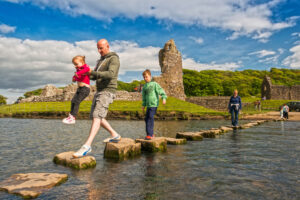 Education
Anything can be a teaching moment. The kids deserve a break but keeping them stimulated over the holidays keeps them sharp in readiness for September… it can be fun, too!
1. Unplug for one full day. This one may be met with blood-curdling shrieks but too much time engrossed in computers, tablets and phones is unhealthy. Some time away will provide some perspective on the importance of other things!
2. Go on a nature walk and learn about plants. Exploring the local woods, gardens and parks is a great day out, and will give the kids a greater appreciation of the world around them. There are plenty of printable 'plant bingo' and 'nature trail' games freely available online to keep them engaged.
3. Go to the zoo. Seeing the planet's most impressive animals in one place is a really special experience. Not only will they enjoy seeing waddling penguins and playful monkeys in appropriate habitats, zoo educational programmes are increasingly fun and engaging, so they can learn about conservation, too.
Live well
It's important to treat ourselves but – even if the the usual routine is a little off – you should do your best to remain committed to health and happiness!
4. Have a home spa day. The summer doesn't have to be about cramming as much exertion as you can in one day. Sometimes, the activity can be something that restores you and allows you all to chill. Have manicures and pedicures, face masks, an easy-going yoga session, a hair treatment . . . whatever leaves you feeling zen.
5. Go on a family bike ride. If you have bikes, the summer is the best time to plan to go out and enjoy cycling somewhere pretty. It's great exercise, and you can get further away from home with the little ones than on a walk if you don't drive.
6. Grow your own. Supermarkets and garden centres are making it easier than ever to get the inexpensive kit needed to grow your own fruit and vegetables. The kids will learn loads, and potentially even have a new-found respect for healthier food options!
Give back
Whilst the summer is about having fun and being together, it's a good thing to give back to the community.
7. Run a lemonade stand with your children. A rite of passage for kids, you can have a great time making a stand and decorating it, and you can donate the proceeds to charity. It's a great way to learn about running a business, too.
8. Make a 'grandfriend'. Even if your child has a great relationship with their grandparents, regularly visit a 'grandfriend' at a nursing home to cheer them up when they may be lonely. Play card games, exchange advice and stories, listen to music and build a real connection.
9. Ready, set, bake! If you're having a baking session this summer, make enough treats to be able to deliver them to your local police or fire station, hospice, neighbours or friends.
Keen to try something new? Give these a go!
10. Explore a nearby town or attraction that you've never visited.
11. Take the kids to a family-friendly concert, festival or open air theatrical performance.
12. Sleep in a tent in the backyard. This is perfect for testing the waters before taking the kids on a camping trip.
13. Have your kids plan and make dinner one night if they're old enough. Go the whole hog with a fancy tablecloth and dinnerware.
Staying on track…
Every summer starts with the best-laid plans, but many parents end up feeling disappointed come the end  when life has once again got in the way and prevented many adventures from getting off the ground.
Very few people will be able to complete their lists but if you're committed to ticking off as many ideas as possible, why not create a visual aid to help make it happen?
Create a pin board or a white board with your list on along with some motivating images and keep it somewhere the family will see it every morning. Alternatively (and this is the more fun option in our opinion) write your ideas on ice-lolly sticks and draw them completely at random. Who knows what your next adventure will be!