Spookily good Halloween cocktails
If you're already planning your Halloween party, resplendent with fantastic decorations, an intricate and relevant Halloween costume, great games and delicious treats for your guests, don't forget to include some boozy Halloween drinks on your party menu! It takes a lot of work and effort it took to turn your house into a haunted mansion, so you deserve it!
Whether you're doing an adults-only costume party or coming back from a long night of trick-or-treating with the kids, let your friends and family sip on these Halloween drinks. Preparing them is simple, but it's still enjoyable enough to get other people involved shaking up some witch's brew with you!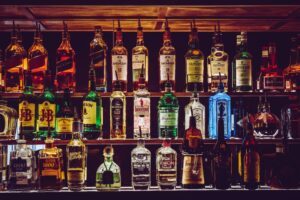 The list of potentially hair-raising cocktails is endless. Here are our favourites:
Salted Caramel Rum Hot Chocolate
This alcoholic blend is made with dulce de leche – a thick caramel. It's decadent and sinfully rich. Add salt to your liking then serve up a mug of pure boozy bliss. Don't give anyone too comfortable a seat because this one with have you napping in no time!
Ingredients (serves 1):
25ml dark rum
2tsp Dulce de Leche or thick caramel
150ml whole milk
50g milk chopped chocolate
Method:
Mix together the rum and the Dulce de Leche in a small bowl until smooth then set aside. Warm the milk in a saucepan over a medium heat until simmering and then remove from the heat and add the chocolate and stir until melted.
Pop the pan back on the heat until warm then add the rum mixture and a pinch of flaky sea salt. Pour into a mug and serve. Cor! Absolutely delicious.
Black Magic Margaritas
Ingredients (serves 3-4):
50g black sanding sugar (a type of edible, coloured sugar)
2 cups ice
120ml silver tequila
60ml triple sec
100ml lime juice
Red food coloring
Blue food coloring
Green food coloring
Lime wedges (to garnish)
Method:
Rim two glasses with a lime slice and dip in the black sanding sugar. Divide the tequila, triple sec, and lime juice between up to four glasses and stir to combine. Add food coloring until desired black color is achieved. To finish, add ice and garnish with a slice of lime. This cocktail is pretty strong, so pace yourself, and don't overdo it with the food colouring as a lot of it tastes really unpleasant.
Poison Apple Cocktails
This drink is all about the edible glitter, available on Amazon. However, the glitter needs to be thoroughly mixed up in order to have the stormy, swirling effect, so if you don't have a cocktail shaker, try a blender!
Ingredients (serves  2):
100ml apple cider
100ml cranberry juice
60ml Fireball Whiskey Liqueur
25ml grenadine
¼tsp edible gold glitter
1 cup ice
Combine all ingredients in a cocktail shaker, and then fill it with ice. Shake until contents are mixed and shaker is cold, which should take about 30 seconds. Pour into glass and serve!
Spiced Apple Margaritas
Ingredients (serves 2):
60ml apple cider
30ml silver tequila
50ml freshly squeezed lemon juice
Sugar, for rim
Cinnamon, for rim
Salt, for rim
Apple slices (to garnish)
Cinnamon sticks (to garnish)
Method:
In a pitcher, combine cider, tequila, and lemon juice. Dip glasses in water, then into a mixture of sugar, cinnamon, and salt. Fill with margarita, and garnish with an apple slice and cinnamon stick. There's a real bite to this one that's almost savoury, so go easy on the sugar and then give it a try if you don't have much of a sweet tooth!
Boozy Butterbeer Punch
Who says Harry Potter is just for kids?! Don't be a Muggle, make a big vat of boozy Butterbeer punch and you'll get picked as Head of House!
Ingredients (serves 8-10):
2l cream soda
750ml cans seltzer
120ml Vanilla Vodka
120ml heavy cream
2tbsp brown sugar
1tsp vanilla extract
2 tbsp melted butter
Gold sanding sugar (to garnish)
Butterscotch syrup (to garnish)
Method:
In a large bowl, combine cream, brown sugar and vanilla. Using a hand mixer, whip until soft peaks form. Fold in melted butter and set aside. This is your butterscotch syrup.
In a punch bowl, add cream soda, seltzer, vodka and stir to combine. Top with whipped cream and a sprinkle of gold sanding sugar. Drizzle the butterscotch syrup on rim of mugs. Serve punch and top with additional sanding sugar and butterscotch syrup if desired.
Blueberry-Pomegranate Punch
Stir up something delicious for your next party with this fruity, garnet-colored concoction made with pomegranate juice, fresh lemon juice, blueberry vodka and orange liqueur.
Ingredients (serves 8):
4 hisbiscus tea bags
Cinnamon sticks
1l pomegranate juice
500ml blood orange juice
30ml fresh lemon or lime juice
200ml blueberry vodka
30ml Triple Sec/Cointreau
Bottle prosecco
Blueberries and/or pomegranate seeds (to garnish)
Method:
Place the tea bags and cinnamon stick in a large measuring cup. Top with a mug of boiling water and allow to steep for five minutes before straining and and leaving to cool to room temperature. Combine tea, vodka, orange liqueur and fruit juices in a pitcher. Slowly stir in prosecco. Serve over ice with orange slices, blueberries and pomegranate seeds.