Seasonal shenanigans: ideas for autumn family fun
Glossy conkers, comforting foods and a stunning colour palette; autumn is a magical season to behold. The warmth of summer hasn't faded entirely but the promise of cosy evenings and festive fun are on the horizon. Don't mourn the end of the school holidays; there's plenty to celebrate as the season changes.
As we enter October, there's a temptation to put on a snuggly jumper, cuddle up with a brew and hide from the outside chill. Yes, we've got some suggestions for cosy time with the family but it's a wonderful season to enjoy the Great Outdoors; it's too beautiful to miss!
Check out our to-do list for this autumn, and join us in the leaf pile!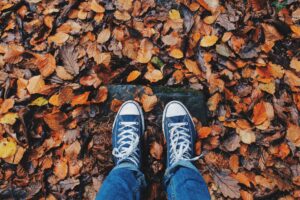 1. All the leaves are brown
We can't overstate it enough; there are few times of the year when nature is more vibrant. Going for a walk with a Thermos of hot chocolate to see the changing leaves is unmissable.
You can keep the kids interested by taking one of these fun printables from the Woodland Trust to spot colours and wildlife. Bring home a selection of pretty leaves, pine cones and berries to decorate the dinner table with.
As Brits, we know rain is never far away but there's no reason the wet stuff should keep you housebound. Kids adore splashing through puddles in their wellies!
Continuing the vein of 'turning bad weather to your advantage', use the brisk bluster of autumn as fuel to get your kite up in the air. Kite-flying is great fun, but is also really effective at improving fine motor skills in little hands.
If the kids are allowed to stay up for a treat, go for a night-time star-gazing walk to see what stars they can spot! Star Walk 2 is one of the best apps to help you; just point your phone at the sky and observe planets, asteroids, comets, ISS, Hubble Space Telescope, constellations, stars and other celestial bodies – wow!
2. Crafty So-and-sos
Get kids involved in a age-old tradition; conker collecting! The fruit of the horse chestnut tree is used in a traditional playground game, where players 'battle' their conkers until someone's cracks. Get the varnish, drill and shoelace ready and head out to get some quality conkers that can be found on the ground near horse chestnut trees.
Get extra cosy this autumn and create some wonderful, woolly accessories by learning to knit or crochet. If you're not clued up in order to teach the kids, there are plenty of YouTube videos to teach you the basics. We recommend starting by knitting scarves or crocheting blanket squares. If you all persevere, you'll have some fantastic gifts to give come Christmas.
El Día de los Muertos (Day of the Dead) sounds a little gruesome, but the sentiment of the day couldn't be further from this. This Latin American feast day honours the dead with a lively festival. Convinced that the dead would be insulted by mourning or sadness, people celebrate with all the food, drink, parties and activities the departed enjoyed in life.
For older children, this festival can help tackle typically uncomfortable questions about death, and replace any morbidity with a healthy attitude. Mommy Maestra has a great resource on this, so read up, watch Disney's Coco, bake sugar skull cookies and have a Mexican-inspired dinner!
3. Food, glorious food
Pumpkin-carving really isn't as easy as it looks. Save the tears when a grotesque imagining collapses in on itself by practicing in advance! Pumpkins are cheap and readily available at supermarkets in the weeks leading up to Halloween.
An apple and rhubarb crumble is a welcome sight on any autumnal dinner table, especially when served with lashings of hot custard! Help the kids learn more about farming, cooking and eating seasonally by heading to your closest orchard, picking apples and then making a delicious dessert. The People's Trust for Endangered Species website has a directory of all the orchards listed in the UK. Bundle up and head on down.
4. Creatures of comfort
Sometimes all you'll really want to do is bundle up and get cosy, especially if the weather is truly apocalyptic or one of you has the sniffles.
On these days, commit to a pyjama day, watching favourite movies and enjoying lots of snacks. When you've had enough of lounging about, encourage the kids to declutter their bedrooms and give toys to charity in preparation for Santa's visit.
Alternatively, have a family sleepover in the living room, complete with spooky stories uttered by candlelight, pillow fights and a midnight feast!
Autumn is truly a season to soak up and really enjoy, and there are plenty of ways to do this as a family. What will you be up to as the seasons change?