Rethinking your kitchen: how to organise like a pro
At this time of year, there's a big drive to sweep clean and let in light; to refresh soft furnishings, purge the home of dust and darkness, and give a lick of paint to any tired-looking woodwork ready for the warmer months ahead.
Okay, so let's be real here. Organising your kitchen may not be fueled by the same passion as dressing your lounge up like a Good Housekeeping feature but overhauling this key work space will not only make it function better, it will make you feel pretty great too.
On the blog this week, we've got some great tips that will maximise space in even the tiniest of kitchens. The theme here is storage. How we stow away our food and cooking utensils can be revolutionised with some small changes and almost no money. You may even feel inclined to get more creative in the kitchen and whip up a new dish!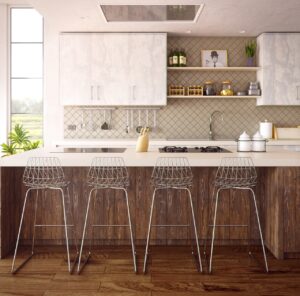 Check out our list and see if you can instill a little harmony in the heart of your home.
1. Purge yourself of packaging
Our first tip is particularly useful for people with open shelving in their kitchens. Some food brands have really attractive packaging, but its ultimate purpose is to shout out at you from a supermarket shelf. You can easily dial down the 'visual volume' and do your bit for the environment by ditching the packaging altogether.
Make ingredients look neat and tidy by decanting them into matching jars. This works particularly well for lesser used items like seeds, flour, nuts etc. If you're worried about reaching for the sugar and grabbing salt, get creative with some cute labels!
This tip is also a great suggestion for those attempting to go more green. Increasingly, shops will allow you to bring your own containers or even leave packaging behind (particularly if it's not clear if it can be recycled), reducing your plastic footprint considerably.
2. Be transparent
How often do you use muse over an ingredient that will add something special to a dish, or a tool that will make life so much easier… if you could only find it! Clear plastic storage containers or boxes allow you to see everything without opening several drawers or boxes just to get to one thing.
If you have enough of them, you can opt to group items together if they're similar – for examples herbs and spices – or even group ingredients commonly used together. Think how easy it would be if you can just pick up the storage box containing all the key ingredients for a spag bol or curry!
3. Think about the sink
The sink takes up a lot of kitchen space and yet it's the one spot we keep obsessively clear. The good news is, it's easy to maximise space here without it getting cluttered.
To give you more room to prepare meals, keep an over-the-sink cutting board to hand. Pocket organisers on the inside of under-sink doors are also handy and hygienic for holding sponges, cloths and odds-and-ends.
If it won't interfere with the washing up, you can also use shelf-risers or a ceiling-rack over the sink to hold washing-up related kit, or even a selection of herbs that'll be easy to grab as you make dinner.
4. Divide and conquer
Lighter items like baking sheets and cooling racks can be neatly stored with a dividing file rack, much like the ones found in office supply stores. No more clanging trays every time you have a hankering for cheese on toast in the dead of night!
Shelf-risers will also give your cabinet twice as much surface space,. You can find them in varying sizes and shapes for pretty much any collection of goods, from baked beans to bakeware, and they can be bought in almost any cupboard size.
5. Hide it away
Okay, so this one might be a bit of a cheat, but if you have the cupboard space, stow your microwave away. You can even use it within the cupboard if you make a hole in the back of the cabinet to connect it to a socket and allow it to vent.
6. Make a feature
Even if you slavishly commit to only using mugs out of a matching set, they're a common gift and the chances are you'll have several in your kitchen that don't match anything else.
Rather than use up valuable space in the cupboard, hang mugs by their handles from shelving. It'll add a nice pop of colour and personality to your kitchen, and they'll be in easy reach when you're desperate for a brew!
By making a few small and inexpensive adjustments, you can improve the functionality of your kitchen and also make it a more pleasant space to prep food. You can implement new levels of design and personality by developing more organised systems, saving time and effort better spent with family or friends around the table.