New Year, New Home: resolutions for home harmony
Christmas is the most wonderful time of the year and, true, there's nothing better than nesting at home for the better part of a fortnight. So when dreary January arrives, it arrives with a slump, not a bump, for many people.
The weather's miserable and most of us have bank accounts that are feeling the burn, but there's no better time to sit back, take stock and plan for the year ahead. We make New Year's Resolutions for ourselves but have you ever considered making them for your home?
Here are six resolutions for a harmonious home in 2018.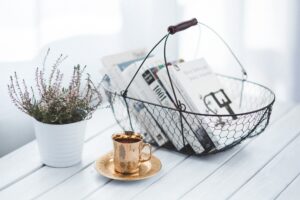 1) Love your home
This seems an odd one, and is often difficult to do, given that we spend evenings staring at the ugly fireplace surround we can't afford to replace, or the dust that seems to settle everywhere.
Sometimes, we've got to cut our home some slack; after all, it shelters us and our families. It can be quite freeing to show some love for what we have, rather than bemoan the lounge for not looking like a Laura Ashley catalogue for instance.
Cook some exciting meals with what you have in your food cupboards, plan for a relaxing night in your bath (even if it is an avocado suite!), listen to some old CDs or get cosy under your most threadbare, best-loved throw.
2) Get serious about safety
Keeping doors and windows locked is crucial, but there's more you can do to protect your home.
Wireless alarms are a fantastic secondary line of defence. If someone is trying to infiltrate your home, the noise of an alarm will have them scarpering, leaving your home unscathed.
Home alarm systems are available at most DIY or hardware stores and don't have to be expensive to install. Place alarms for doors and windows in 'hidden' areas of the house that are often dark.
3) Keep the hallway fuss-free
The hallway can quickly become a dumping ground when we come home from a long day in the office. The temptation is to kick off our shoes and clutter the hall-table or stairs with keys, letters and lunchbox.
A shoe rack is a great option for regaining order and a storage bench or box is handy for stowing hats, scarves and other outdoor accessories in. No room? Resolve to only allow one pair of shoes per person at the door at any one time!
Devote one area for all post as a 'holding zone'. You can buy some beautiful, personalised letter racks from independent designers. Set time aside every week to go through the post, and file or recycle anything you don't immediately have to deal with or need.
4) Recycle right
Recycling is becoming more important with every New Year that we ring in. Make 2018 the year you double your efforts to really bring down that carbon footprint.
To expedite this process, put recycling tubs and bags where they're likely to be used most readily, and get on Pinterest to research creative ways to re-use materials that aren't biodegradeable.
5) Be tough on bathroom mould
No surprise here – bathrooms are moist and constant moisture causes mould and mildew growth. This can be eliminated from the bathroom and kept at bay with some easy steps (you've just got to be vigilant).
Immediately after showering, squeegee water off the shower walls to remove 75% of the moisture that would otherwise breed bacteria. If you have a tiled bathroom, re-grout the tiles every year to waterproof them.
If the mould has already struck, it's relatively easy to remove. Create a solution with 90% water and 10% bleach and spray onto the affected area. Leave this on for ten minutes, and then scrub between the tiles and rinse with water.
6) Make it easy to clean
If you're able to store it discreetly, stash a cleaning kit for a particular room in that room. You don't need to keep the works next to the sofa at all times, but having a duster and Mr Sheen or furniture wipes nearby will encourage you to keep on top of the chores.
Planning for 2019 (yes, really!)
Putting the house back together after the festive season is a mammoth task and we think this dreadful job contributes to making January the most miserable month of the year.
Did you know, many people write a list of tasks for next Christmas in the New Year? It's well worth considering.
The holiday will still be fresh in your mind so you can better plan for next Christmas. Did you over/under estimate the Christmas Dinner veggies?  Can you avoid your carpet getting trashed by setting up the Boxing Day buffet differently?​ Do you have enough recycling bins to get you through to New Year with all those prosecco bottles?
Far from being a depressing job, it will actually lift your spirits knowing you're prepped for next Christmas fully in control of things!
Being resolute
Our homes require a lot of loving to be relaxing sanctuaries but with a few small changes you can create a year full of harmony for you and your home. Happy New Year!