Quick Guide: preparing your home for winter
It's that time of year when the sun is paling, night falls too fast and we're piling on the extra layers to keep warm. Lots of people find this time of year challenging; the dark and cold of autumn and winter can bring on low moods and restlessness. Just like our moods, as the seasons change, so too do the jobs and demands of running a house.
There are a few season-specific household tasks you should do to keep everything ticking over smoothly until spring. The good news is, this can be accomplished over a weekend. Here's how we're getting our homes ready for winter.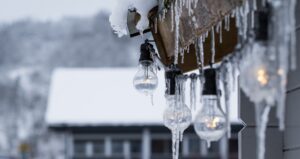 Ensure you're insured
Home insurance claims are more common during the winter months – just think of all the extra items you have in the house over Christmas alone. Check you have sufficient cover in place, clarify what that cover provides and understand the process (should you need to make a claim). Have insurance contacts readily available – we hope you don't need them but it helps to be prepared.
Are you getting enough bang for your buck?
As the temperature drops outside, you'll be turning things up inside. Autumn is the ideal time to examine your energy bills and make some changes. Ring your current energy supplier and ask what options are available to you as an existing customer – perhaps a better tariff or even a smart meter. Out of contract? It could be time to look for a new supplier.
Pipes of peace
With an el-Nino winter just announced for 2018-19, we could be looking at chilly weather akin to 2010.  In very cold weather, standing water in pipes can freeze and burst the pipes. This can be an expensive fix but it can also mean you're unable to live at your property until it's sorted.
Check external pipes for cracks or holes that may let in cold air. If you find any, seal them. Don't turn off your heating completely during the winter; keeping the heating on, even at a low level, will help keep pipes warm enough to prevent problems.
Don't put a dampener on things
Warm homes and cold conditions outside create condensation – resulting damp (those disgusting black spores that seemingly appear overnight) is one of the biggest problems with the onset of winter. Not only does it look awful, damp and the accompanying mold can cause respiratory problems.
The best way to avoid this is to prevent warm air and steam entering colder rooms. No drastic changes necessary, just close the kitchen door while cooking and dry your clothes outside where possible to limit dampness in the air.
Attend to the boiler
In many ways your boiler is the heart of your home. It's responsible for your luxurious baths, your morning coffee and the warm and welcoming rooms throughout your house. To keep it ticking over, it needs a full service annually. Most energy suppliers offer comprehensive boiler care packages or you can get a qualified plumber in to give it the once over.
Bleed the radiators
When your radiators are on, check each one in turn. If they feel noticeably cooler at the top they have trapped air inside; this is preventing hot water circulating efficiently. It's time to grab a towel, a bowl and that special radiator key to release the air. It's not the sexiest of jobs, but it will certainly be worth it!
Nurture your indoor jungle
Winter deprives houseplants of the three things they need to thrive: warmth, light and water. That's why most plants go dormant during the colder months; they stop growing and rest. However, there are a few things you can do to ensure they come back in the spring.
Get in one more good watering and apply a slow-acting fertiliser which will provide much-needed nutrients through the winter. If any of your plants live in typically cold places (for example, a conservatory), apply a layer of mulch over the base of the plant to retain warmth.
There isn't an awful lot you need to maintain your home's health, but doing so can save a significant amount of hassle and funds which we're sure you can find better uses for over the festive season!