Quick Guide: cleaning soft furnishings
Soft furnishings are an essential element when it comes to creating a cosy, relaxing and welcoming vibe within your home, but from time to time, they need a good clean to keep them looking and smelling great.
Today's quick guide is all about cleaning your soft furnishings. We've selected the soft furnishings that most people have in their home and have some quick tips for getting them in ship-shape!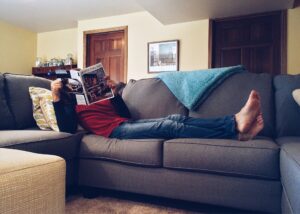 Rugs
Rugs get a cleaning when we vacuum, but they eventually need a little more TLC.
You'll need to clean your rug outdoors, so the good news is that you're off the hook until at least late spring! Before taking the rug outside, thoroughly vacuum both front and back of it.
With a safe shampoo chosen (test a little in the corner 24 hours before), arm yourself with the garden hose and give it a good rinse. The next step requires lots of scrubbing and foam, so grab a bristled brush to get busy on stains.
Once you've cleaned away any debris and stains, you'll need to rinse the rug out. A squeegee is your best friend here! Make sure that the rug is completely dry before bringing it back inside, because mould spores will happily multiply otherwise!
Cushions
Most cushions come with removable covers that will valiantly survive a spin in the washing machine and come out looking as beautiful as ever. With some fabrics (always check the labels), you need to exercise a little more care.
In the first instance, go over cushion covers with your vacuum cleaner. Most vacuum cleaners come with an upholstery attachment to remove any debris, hair or fur.
Once you have done this, give the cushion a quick wipe over with a sponge soaked in a tiny amount of detergent. To go the extra mile, choose a fabric spray with a light and airy scent and generously spray onto the cushions – it'll feel luxury to snuggle up next to them later on!
If you have pets or little ones, your cushion covers may require an intensive clean. Steam cleaners use heat to to give a deep clean and to sanitise, leaving your cushions looking like new. Don't splash out and buy one if you'll only be using it for a few tasks; they're cheap enough to rent in many DIY stores or supermarkets.
Curtains
Most curtains accumulate lots of dust, pet hair and mould spores. These can not only make your window dressings look tired and dirty, but allergy sufferers will experience significant relief from indoor symptoms if curtains are regularly cleaned.
Curtains should be vacuumed monthly from top to bottom on a low setting, using the upholstery attachment. If you are unable to vacuum them, pop them in the tumble dryer on a "no heat" (or fluff) setting for ten minutes. Remove the curtains as soon as the cycle has finished, and immediately rehang to prevent wrinkles.
Some curtain fabrics can be machine-washed, but velvet, velour, chenille, tapestry, brocade, wool, silk and lined curtains should be dry-cleaned. For washable fabrics, pop in the washing machine on a delicate cycle, or a cool wash with a slow spin.
Curtains need to be deep-cleaned or dry cleaned at least every year or so, or dirt will start to rot the fabric.
Sofas
Sofas last between seven and fifteen years on average, but with sticky hands, Saturday night snacks and cuddles with the pooch, sofas sustain the full impact of family living.
Position sofas out of direct sunlight if possible to retain their colour's vibrancy.
Use arm covers and throws to protect your sofa from spills, which can affect the long-term durability of fabric.
When spills do happen, remove them as soon as possible, by first scooping up the spill with a spoon. Dab the stain out as much as you can with a damp cloth – never rub it in! Get to work with upholstery cleaner, and leave to dry.
Don't sit on light-coloured sofas wearing denim or non-colourfast clothing. Clothing dyes can easily transfer to the upholstery and discolour it, and this is extremely difficult to remove.
Carpet
Many people now opt for hardwood floors or tiles over carpets due to their high maintenance, but if you can't forego the warmth and cosiness they provide, there are plenty of ways to keep them looking great.
Whilst seemingly obvious, regularly vacuuming carpets remove the debris that leads to damaged fibres. However, it's important to have carpets cleaned professionally once a year, particularly if anyone is the family has allergies.
Don't allow people to wear their shoes and boots on your lovely carpets. Socks carry very little dirt and will reduce discolouring the carpet.
Use furniture rests to protect your carpet from castors and heavy furniture. If your furniture has caused indentations, place an ice cube on the indentations and allow it to melt. Once melted, tease up the pile with a clean toothbrush very gently.
Soft furnishings are one of the greatest ways to bring personality and a sense of place to our homes, so it's important to show them some love and keep them looking gorgeous!