Quick guide: 30 minute garden cleaning routines
When the weather is good the last thing we want to be doing is toiling in the heat but giving the garden some TLC needn't be a long and arduous task. Summer is one of the most labour-intensive times for gardens, but if you want them to look good you have to put some work in, whatever the weather.
Split you time outdoors between relaxing and doing a few, practical jobs and you'll get the most out of your garden this summer. To make it easier and more enjoyable, we've broken your garden jobs down into handy, half hour blasts – perfect when you love your garden but you love your down time too!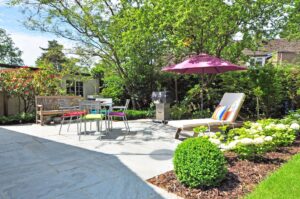 1. You're only as good as your tools
Whenever you've finished working with garden tools, make time to rinse off the soil and debris before kicking back with a celebratory cuppa. If you're tackling hardened mud, wipe with an oily rag and rinse before putting away.
To achieve the best finish and prolong their lifespan, shears, trowels and spades should be kept sharp and clean. A professional maintenance service for this is offered by many garden centres, so shop around for a good deal.
When it comes to mowers, best practice is to give the mower a brush down after every use to avoid damp and warm grass cuttings sticking to the blades, as this can make mowing later much harder.
2. Pond love
Ponds are a focal point in the garden, so yours should be well-maintained with clear water and healthy plantlife in and out of the water.
Algae is the enemy of ponds, and must be kept under control. Remove filamentous algae from the water's surface with a rake, and check and clean your pond filter regularly.
Top-up water levels regularly during hot, dry periods as a matter of safety, as a severe drop in water level could limit the amount of oxygen available for fish. You will be surprised how quick this can happen – check levels daily and, if you go on holiday, ask a friend to check for you.
3. Love your lawn
A good looking lawn is one of the easiest ways to make a garden glow in minimal time.
To promote healthy growth, never to cut the lawn by more than one third of its length at any one time, and feed it lawn food in the spring and autumn so it can remain looking vibrant and lush.
Spike the surface of the lawn once a year to allow it to breathe, and remove other foliage that's beginning to encroach on your lawn by regularly cutting overhanging trees and shrubs, and pulling up weeds and other unwanted plants.
4. Garden paths and patios
Moss can make paths and patios slippery when wet; a pressure washer is ideal for cleaning them. However, be mindful of dislodging cement or grout as this could create a damp problem.
Weeds often grow between patio stones, but with a little elbow grease, they are easily removed with a knife. After weeding, liberally apply a path and patio cleaner, such a Jeyes Fluid, and give them a good scrub. Pay particular attention to shaded areas as these tend to be more damp, where dirt and bacteria thrive. These areas might need a more vigorous scrub, a second application and a little extra love.
5. Decking
Some light maintenance of the decking year-round is crucial for its long term finish because, in as little as one season, a grimy build-up can make it look ugly.
A solution of warm water, bleach and washing up liquid will tackle mildew when saturated all over the wood and left for fifteen minutes. Scrub at stains with a stiff broom and rinse the decking afterwards. Make sure you rinse thoroughly, as residual bleach could damage your deck.
Jeyes Fluid will also do a great job on your decking, especially between deck boards where the most dirt gathers. Once the decking is clean, finish off by checking for splinters, using sandpaper to smooth any rough edges.
6. Keep things fresh
When re-potting plants it's important to create a clean growing environment where they can thrive. Grime and bacteria can cause plant disease. Clean pots inside and out using dish soap, hot water and a fresh scourer. Rinse thoroughly before re-settling your green friends in their new containers.
We don't recommend tackling the whole garden in one day as you could end up with a sore back and sunburn, but each of these areas should take less than half an hour to clean (depending on its size, of course), so over a sunny working week you can get the garden looking great!