Planning a safe family fireworks party
Fireworks Night, otherwise known as Guy Fawkes' Night or Bonfire Night, is a quintessentially UK celebration, marking the time that Guy Fawkes and his co-conspirators didn't blow up the Houses of Parliament on the 5th November.
For us Brits, it's an excuse to watch some fireworks, wrap up in cosy clothing, eat hearty food and drink warming beverages, all whilst getting toasty by the bonfire! If you're hosting some autumnal fun, we've got some ideas to add some 'extra sparkle' to your event.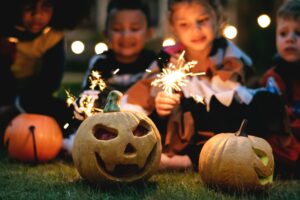 Create the right vibe
The best thing about autumn is indulging completely; feeling cosy, safe, laid-back and snug. The best way to make your guests feel this way is with clever outdoor light. Candles and fairy lights are inexpensive but so effective. It's great to have the house to retreat to, but before it really is too cold, avoid your guests getting sore feet and get creative with some outdoor seating.
Rather than buy a full complement of furniture, get some cheap hay bales for your garden or patio. To avoid itchy bums and legs, throw some rugs and blankets over the top and make them look really inviting. If you have a fire pit, arrange them around it at a safe distance to make for cosy mingling. If you're having a firework display, you don't want extra chilly guests to miss it because they were too cold to stay outside. Gather up your quilts, spare jackets, hats and gloves and place them in a cute bucket or basket by the back door and make a sign urging your guests to take what they need.
A full belly
Robust catering is vital because at this time of year, we all need warming with some hearty food. Jacket potatoes are a tried-and-tested favourite because they're so customisable, but we suggest making them into portable shepherd's pies, with all the good stuff spooned in, cooked in a baked potato shell? Rather than typical minced beef in a chilli, have a go at adding bangers instead! Another hit would be to make a big vat of pumpkin soup and serving it in paper cups with hunks of crusty bread.
Parkin, treacle toffee and gingerbread are all delicious puddings, but we suggest making pudding an activity in itself – make a toffee apple station! Place apples whole or sliced on a tray with kebab sticks through them. Then set up your dipping bowls of toffee, chocolate and more. Don't forget the toppings! M&Ms, honeycomb, hundreds and thousands, chopped nuts – there are no bad ideas here!
Toast the occasion
Anything warming is a great shout during bonfire night. Make an autumn punch making use of autumnal flavours like cinnamon and nutmeg. If you're serving clear drinks, add some glow-sticks to them, a simple way to transform a normal drink into something a bit more exciting! Want something a little more rich? Nothing is a worthy substitute of hot chocolate.
If you want to treat the grown-ups, you can 'mature' many comforting drinks with very little effort.  Mulled cider can be made with actual cider, a good glug of Bailey's or Kahlua vastly improves a hot chocolate and hot toddies are a fabulous treat! If you've got some extra time, make some decadent marshmallow shots. Toast and empty the middle of a marshmallow, and then fill it with your favourite liqueur – yum!
The main event
Bonfire Night should have a fantastic firework display. What fireworks you use depends on how much space you have, and if you have children or pets. It's very important that there is a clear line on where people and children should not cross over unless you are going to set fireworks off. When it comes to lighting fireworks, there should be only one person to do this. The designated person should ensure they understand the instructions and refrain from alcohol.
Small children and nervous dogs and cats will not appreciate very loud bangs. If you have nervous pets, or pets who haven't lived with you for Bonfire Night and you don't know how they'll react, read this guide. If you're also having a bonfire, check the firewood to make sure no hedgehogs have made it their home!
No matter whether you can manage a firework display or not, you mustn't forget the sparklers! The thrill of drawing your name in the dark never fails to impress, no matter how old we are! Remember to have buckets of sand at the ready – those things may be pretty and seem benign enough, but they too can be really dangerous.
From flapjacks to bonfires, lob scouse to embers, we wish you all fantastic fifth of Novembers!