Party time: creative mocktails for all ages
It's here, it's finally here, our first spell of warmth and sunshine! Okay, so the weather's firmly returned to 'normal' this week but it hasn't stopped us fantasizing about the summer months ahead and planning for long, lazy days in the sun.
For most of us, basking in the sun usually involves socialising and a drink or two – well, it's a cause for celebration isn't it?
Have you ever considered a 'mocktail'? Mocktails are simply cocktails that have no alcohol in them. They are a great replacement for an alcoholic drink, or if you're watching your weight, or for younger members of the family who want to feel 'grown up'.
Here's some of our favourites that you can enjoy all summer long – whatever the weather.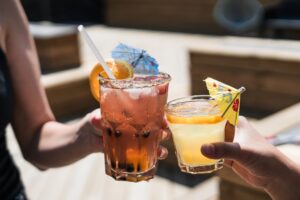 Margarita fans – add a twist of mango!
This isn't just tasty, it's healthy too, and an especially good choice for pregnant women. The combination of ingredients are perfect for combating the nausea associated with early pregnancy.
Ingredients:
1 lime wedge (for garnish)
Ground granola (for garnish)
4 – 6 raspberries
1 tablespoon lime juice
1 teaspoon grated ginger
1/4 cup mango juice
1/4 cup grapefruit juice
Run the lime wedge around the rim of a glass, dip it in the granola mix and allow to set. Muddle the raspberries at the bottom of a glass, and add the lime juice. Add grated ginger, mango juice, grapefruit juice. Stir, then add ice.
Love a Dark & Stormy? Grab your cocktail umbrella
A sweet yet tart mocktail is the perfect remedy for a craving if you're trying to limit sugar in your diet – with this combination of ingredients, it's practically wholesome too!
Ingredients:
8 fresh blackberries, plus more for garnish
2oz runny honey
a handful fresh mint leaves with more for garnish
juice of 1 lemon
1/2 cup water
2 cups soda water
Pop the blackberries, honey and mint in a cocktail shaker, and muddle it all to a delicious pulp. Introduce the lemon juice and water, then shake to mix it up. Strain the mixture into glasses and top it up with soda water. Add ice cubes and garnish with blackberries and mint leaves.
Mojito fans – freeze!
This frozen mojito mocktail is perfect to satisfy hunger pangs as well as thirst. As it's 92% water it will keep you hydrated and feeling full.
Ingredients:
4 cups watermelon chunks (make sure to deseed)
1 cup lemon-lime soda
1/4 cup fresh lime juice
1 tablespoon rum extract (optional)
Sprigs of fresh mint, with enough for garnish
Blend the watermelon chunks in a blender, and pour half of the mixture into an ice cube tray and freeze. This should take a minimum of a few hours, but is best left overnight. Chill the rest of the mixture in the refrigerator. When ready, pop the frozen watermelon cubes into the remaining mixture and add the lemon-lime soda, lime juice, and rum extract (if using).
Blend until smooth, then sprinkle in the mint and pour into glasses. Garnish with additional fresh mint.
Cheat's tip: If you want to make the real deal for your purist cocktail pals, forego the rum extract and pour one part rum into four parts watermelon mixture.
Love a pink drink? No problem
If you're planning a girly summer get together, this mocktail is pure, pink perfection. It's a rich mix of wintry citrus and sunny strawberries, making a delicious bridge between the seasons.
You will need to prepare a syrup for this drink, but it's definitely worth the extra effort!
Ingredients:
For the syrup
8oz strawberries (quartered)
3 inches of fresh ginger (peeled and sliced)
Orange peel of 3 oranges
⅓ cup honey
¼ cup fresh-squeezed orange juice
¼ cup water
Pinch of sea salt
For the mocktail
Soda water
Orange slices
Strawberries
Mint
To make the syrup, place all the ingredients in a small saucepan over a medium heat. Bring to the boil and simmer for five minutes. The strawberries will have lost their colour and the liquid around the fruit should be a bright pinkish-red.
Allow the syrup to cool, and strain into a bowl or jar, pressing on the fruit with a spoon to extract as much as possible. Wait until the syrup has cooled before using it. It will keep in the refrigerator for up to a week.
When cooled, put 2-3 tablespoons of syrup in the bottom of a glass. Add soda water (champagne for any drinkers!) and two ice cubes. Garnish with an orange slice, strawberries, and a sprig of mint, and serve right away.
These are just four mocktails to get you started, but you can get as creative as you like with your favourite flavours and garnishes. For example, rosemary and thyme make for a great earthy flavour, peaches and lemonade can lift a mocktail with sweetness, and lots of pretty glassware and cocktail accessories make your mocktails look amazing!
Happy mixology!