Outdoor entertaining with flair
Dare we say it? Summer is nearly here! From enjoying the first coffee of the day in the morning sun to enjoying a full family BBQ, one of the favourite seasonal pleasures is enjoying the garden as we eat and drink. Alfresco dining is a really romantic concept, but it can often be compromised by the elements and a failure to prepare.
Prevention is better than cure, so rather than worry about the wind picking up and knocking your perfectly crafted cocktails over and flies spoiling your meal, here are some tips to help you dine safely and comfortably outdoors!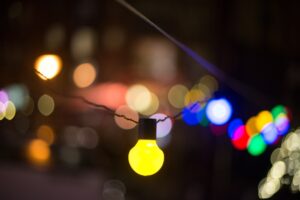 1. Get the blood pumping
Our first suggestion may seem a little redundant if you're going to spend an evening relaxing with a large glass of chardonnay, but if the weather is good for an extended period, we're tempted to sun worship which often accompanies extra indulgence. Before you start preparing for a meal outdoors, it's a great idea to work up an appetite and exercise! Enjoy a bike ride, a jog or a game of rounders. An hour of exertion can burn more than 300 calories!
2. Get a trim
A freshly-mown lawn is best achieved a few days before you're planning to spend some time outside. Not only does it look much more pleasant, but it reduces the levels of grass pollen in the air. Any hay fever sufferers in attendance will thank you for it!
3. Don't stand on ceremony
Larger gatherings in homes invariably mean that people will stand around mingling, but at least ensure everyone has the option to sit down. If you're hosting for several hours, and especially when serving food, put out outdoor cushions and blankets to protect your guests against sitting directly on the grass even if you don't have enough chairs!
4. Stoke the embers
If you're new to the craft, it takes time for a barbecue to get up to cooking temperature! Stock up on extra coal, firelighters and lighter fluid to last all evening and so that you're covered in case you have to relight it after an unexpected downpour.
5. Spruce it up
There's never really a bad time to clean, right? If you've got the time and necessary materials, garden surfaces in your garden should be a doddle to bring up lovely with the right pressure washer or good, old-fashioned elbow grease, so there's no excuse for them being grubby during a lovely meal in the twilight! If you start paying the garden some attention in the Spring, you've got a much smaller job on your hands going forward.
6. Get fancy
Just putting out a summer blanket for an evening outdoor picnic is great fun, but add a little sophistication to proceedings and you'll make magic! Find an attractive centrepiece for the patio table (just a vase of cut flowers makes a really elegant touch), light some candles and set the table – including linens!
. . . and make sure you only admit guests who sent an RSVP
Many bugbears (excuse the pun!) for people during the summer are the critters that plague our outdoor time. Use lidded serving wear and keep them closed so that ants and bugs can't join the party! Delay serving up just before inviting people to eat, and keep on top of clearing plates people have finished with to keep bugs at bay. Keep a bin bag nearby so you can discard scraps right from the table.
Expect the weather to turn
An umbrella makes the most sense due to affordability and practicality, but if you don't have one, investing in a gazebo is a really good idea (or pop-up tents for the kids) in case the elements betray us, as they often do. Equally, we can underestimate the power of the sun, and it's important to have some shade to retreat to on bright days to enjoy the outdoors safely.
Whether you are planning an intimate dinner for you and your other half or throwing a legendary Summer bash, enjoy your alfresco dining – goodness knows it doesn't last very long!