Our 5 favourite summer salads
It's high summer and the warm weather has left many of us feeling uninspired in the kitchen. We love summer as it's salad season but we know the common-or-garden salad is often greeted with eye-rolls and mutters because it's, well, it's a bit boring! But don't feel dismayed, there are an unlimited number of vibrant options you can try that are full of flavour and texture!
This week, we share five of our favourite salads that will liven up your lunchbox and add some colour to your summer cooking.
Each recipe serves four, so you can enjoy as a family, prep for several days of lunchboxes, or triple up for BBQ parties!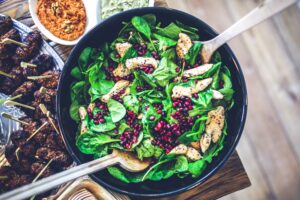 Keep costs low
It's worth mentioning that making several different salads in one week, all with unique ingredients, gets expensive really quickly. Where possible, include some staples that work in a range of salads to keep costs low.
Spinach and lettuce are fantastic additions to most salads and are cheap as chips. Cucumber and celery don't have strong flavours, but add crunch and volume to a meal, while olive oil is the base for most dressings (tip: buy the very best extra virgin oilve oil you can afford, it's worth it).
Bags of nuts can also be pricey, so we suggest buying a large mixed bag that includes favourites like walnuts, almonds and pecans. Depending on the type of salad you make, just fish several of the desired nuts from the bag to crumble over your dish.
Our 5 favourite summer salads
1. Strawberry with balsamic vinaigrette
The sweetness of the strawberry blended with the tang and bitterness of a vinegar will really wake you up on a balmy summer afternoon.
Ingredients:
20g pine nuts
120g wild rocket
handful of lettuce
2 handfuls of spinach
300g washed and quartered strawberries
100g block of feta cheese or goat's cheese
balsamic vinegar
olive oil
salt and pepper
This salad is much more about assembly than cookery – it's so easy! To start, roughly chop the lettuce, spinach and cheese and put a frying pan on the hob on its lowest heat.
Drop in the pine nuts and allow them to lightly warm and toast. As the pine nuts cook, make a dressing by mixing vinegar and olive oil with salt and pepper. If you're using goat's cheese, some finely chopped fresh basil will give this dish a rich, Mediterranean twist.
Combine the spinach, lettuce and strawberries in large bowl and add the vinaigrette, coating the ingredients in the dressings. Arrange the salad on a plate with the rocket, and sprinkle your salad with cheese and pine nuts.
Goes great with: tuna steak
2. Classic Caprese
A classic Caprese salad is one of the easiest salads to create, and yet it's one of the most satisfying!
Ingredients:
1 ball of fresh mozzarella
6 large, fresh tomatoes
2 handfuls of fresh basil
20g pine nuts
balsamic vinegar
2 handfuls of spinach
olive oil
The key to a fresh and delicious Caprese salad is the ingredients. Use chilled, brightly-coloured and organic ingredients, and your salad will sing!
Slice the mozzarella and tomatoes into 1cm slices and arrange attractively on the plate. Finely chop the spinach and basil, and sprinkle those on top, along with the pine nuts, salt and pepper (slightly toasted as per the first recipe) and a generous drizzle of olive oil and balsamic vinegar. Bellissimo!
Goes great with: a cold glass of white wine and a stonebaked salami pizza 
3. Turkey and spiced couscous
If you enjoy heady, exotic flavours, this salad is the one for you! A warming Moroccan-inspired salad is perfect when the evenings aren't quite as balmy as expected!
Ingredients:
260g sliced roast turkey
160g salad leaves
1 red bell pepper
1 half of cucumber
100g cherry tomatoes
handful of coriander
400g couscous
200g pomegranate seeds
salt and pepper
chicken stock
cinnamon
ground cumin
turmeric powder
garlic powder
olive oil
Whisk chicken stock, cinnamon, garlic powder, cumin and tumeric in a pan and bring to boil. Drop in the couscous and cover with a pan lid. After simmering for ten minutes, drain and allow to cool. Mix all the salad and roughly tear turkey before adding it to the bowl. Whip up some lemon juice, olive oil and garlic in a separate small bowl and drizzle into the couscous.
Season with salt and black pepper and drizzle olive oil into the bowl. Serve onto plates and with beautiful pomegranate seeds to make your salads sparkle!
Goes great with: a sharing platter of houmous, carrot sticks and warmed pitta breads
4. Minty melon and prosciutto
Bear with us on this one! This recipe might seem a little out there, but it works so well together!
Ingredients:
1 cantaloupe melon cut into 2.5cm chunks
200g prosciutto
handful mint leaves
1 ½ tbsp red wine vinegar
olive oil
1 tsp honey
salt and pepper
To start, make the dressing by mixing the wet ingredients in a bowl, and some salt and black pepper and put to one side. Toss the melon in about half of the dressing. Lay the prosciutto neartly on a plate and heap the melon on top. Drizzle over the rest of the dressing and sprinkle the mint on top. Serve immediately. The sweetness of the melon and the saltiness of the meat goes great with some crusty bread!
Goes great with: a gorgeous summer cocktail! 
5. Waldorf with a twist
This salad is fresh from 1972, but still tastes so great! We've given it a contemporary twist that makes it so much sweeter.
Ingredients:
100g pecans
2 handfuls of spinach
2 handfuls of lettuce
200g seedless sable grapes
2 jazz apples
2tsp coarse grain mustard
100g crème fraîche
olive oil
fresh tarragon
juice of 1 lemon
salt and pepper
Mix the mustard and crème fraîche together, and add some very finely chopped tarragon. Put the washed grapes in a bowl with some olive oil, lemon juice and salt and pepper. Once they're liberally coated, pop them on a piece of foil under the grill at a medium heat until the skin starts to wrinkle and blister.
Whilst they're cooking, chop up the other ingredients. Crush the pecans. Bring the grapes out from under the grill and add the nuts, mixing them with the sticky grape syrup. It should only take a few minutes for them to toast. Add the grapes and nuts to the mixing bowl and cover everything in dressing. Mix well and serve immediately; the warm grapes are intoxicating!
Goes great with: a grilled chicken breast
We hope we've proved that salads can be more exciting than prawn cocktail or a shop-bought Caesar! By buying certain ingredients in bulk, you can repurpose and make a variety of incredible dishes without breaking the bank. Give one a try this weekend and let us know which is your favourite!