Keep on motoring – winter car care tips
Brrr? You feel that? Winter's definitely moving in and the mercury is dropping. If you're suffering in the cold, it's possible your car is too! Not so fun fact: you're twice as likely to break down in winter. Much as we don't like to admit it, the weather isn't getting any better for a while and it's important that our cars are in proper working order.
Minimise the risk of breakdown by taking the time to give your car some TLC so that you can tootle along safely right through until spring. It's a good idea to prepare for any eventuality should you get stranded in the cold.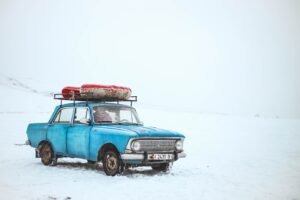 The essentials
Failing to prepare is preparing to fail, as they say, so put yourself in the best position should disaster strike. Here are some suggestions for certain items to keep in your car so that you are well-equipped:
For long journeys, you should always have:
A fully charged mobile phone (Top Tip: download the AA app!)
An in-car phone charger or power pack
Sunglasses
Personal medication
First aid kit
Torch and batteries
Roadside assistance membership card
If you're travelling somewhere new, be sure to have:
A road map in case of diversions
Sat-Nav or a printed route
Don't forget during the winter to load up with a blanket or sleeping bag, a shovel, ice scraper and de-icer, chocolate/chewing gum/boiled sweets/cereal bars and a flask of hot drink anytime you go somewhere further than a couple of miles. If you break down, you may be waiting a while!
Shine on
Shorter days = more driving in the dark. Maintaining your exterior lights is a vital part of driving safely. You need bright lights to improve your visibility to other road users as well as yourself. Salt and dirt can quickly build-up on light casings, so clean them regularly. Now is as good a time as any to learn how to replace light bulbs, so get clued up, and carry spares in case of a failure. You don't want to have to learn this lesson in dark, icy and wet weather!
Give your car battery a once-over
It's harder for the car engine to turn over in cold or damp weather, which can put a strain on car batteries because and negatively impacts the level of power that the battery can deliver. Have you charged your battery in the last few months? If not, a good indicator of the battery being tired is when the battery struggles to provide enough power to start your car. Forego a home battery tester. Play it safe and see a specialist.
Check screen wash and window wipers
Windscreen wipers get a bit of a battering during British winters because the moisture draws dirt and road salt from the surface of the road onto your car which can impede vision and be really dangerous. If you wipers are starting to become work, they'll smear grime across the windscreen despite the amount of screenwash you have. Make sure you've got an industrial back-up of screenwash and be vigilant with the wipers, replacing them as soon as they need it.
Keep calm and carry on
If you do get stranded in inclement weather, the worst thing to do is to panic. Don't venture away from your car unless you're completely sure about where you are and how close you are to help.Contact roadside assistance or a family member to come and help you as soon as you've safely pulled over. Retrieve your blanket from the boot and wrap up to keep warm.
Proving you've got lots of petrol in the tank, run the engine and heater for about ten minutes out of every hour. Leave at least one window open a crack so that snow and ice don't seal the car shut. Your mouth and throat are likely to get quite dry, so, chewing gum or sucking on boiled sweets and staying hydrated is really important.
Now, whether you're driving home for Christmas or travelling 2000 miles, you're good to go!