Keep learning alive this summer
Did you know that at the start of the school year, teachers spend an average of four to eight weeks re-teaching material that students have forgotten during the summer holidays? Many students do not score as well during standard testing as students who continue to learn during the summer.
When the kids are young, this isn't too much of a problem, but the effect is cumulative: there can be a long-term impact on overall performance in school if this process continues year-on-year. In short, the summer holidays can be either a learning wasteland or a learning paradise.
But it isn't all doom and gloom; kids needn't spend their well-earned break learning Excel formulae or the difference between metaphors and similes! While summer holidays can and should be fun, you don't want to foster the idea that learning only happens in school.
With a little ingenuity, summer can be a time to explore new hobbies, develop skills learned during the school year and accept a little more responsibility. Here are some of our suggestions!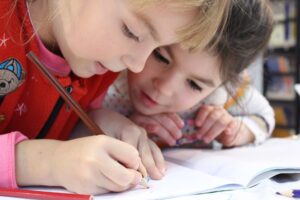 Tuppence a bag…
Building a bird feeder teaches children to read and follow directions, and they'll be so pleased with the finished product. Get a small notebook and pencil, and encourage the children to make observations about the birds that visit and to ask questions about their behaviour. Having a children's nature book to hand will come in so handy!
Theatre, darling!
Theatres run engaging educational programs for a reason; performance is a fantastic activity for kids, helping them build confidence, teaching social skills and developing a strong work ethic.
Creating finger puppets is a great way of encouraging young kids to use their imaginations. You don't need to spend a lot of money; you'll find most of what you need around the house. To help you get started, watch this 'no-sew' finger puppet tutorial from Crafty Gemini on YouTube.
With older children, you can write a proper script. Encourage them to plan a performance, learn as many lines as they're able to, design playbills and sell tickets to family and friends.
Become a real farmer
At some point during primary education, children will learn about how plants grow and what they need to survive. We think there's no better way to learn about these vital processes than planting in your own garden. Start small with hardy herbs like rosemary, and plants like tomatoes and cress.
Make sure the kids know about the air, water, sunlight and nutrients they need. If kids are fussy eaters, they'll be much more likely to give new foods a try if they've grown it themselves! See how to get started here.
Hire a junior travel agent
Planning a holiday is half the fun, so don't leave the little ones out! Teach them how to use a map to find your destination, its airport, beach and tourist attractions, and how to estimate distances. If you are flying or travelling by train, check travel schedules with them and work out costs for the family.
Buy a guidebook to learn about the area in advance of your visit, and do some research online. Practice postcard writing and write to the tourist board if you're staying in the UK to request information.
Whatever you plan this summer, whether staying at home and enjoying the garden or visiting new places, try to incorporate educational moments so the kids aren't on the back foot come September!