Interior design rules to break
Style changes regularly. As a result, it can make choosing how to upgrade your home so much more difficult, things are not long en vogue and there is so much conflicting information on what actually looks great. There are some long-standing design principles that many people follow to feel steered in the right direction, but with the rules changing all the time, perhaps it's better to disregard them altogether.
Once you stop concerning yourself over what is stylish or what's the only way to do something, your home may actually become more engaging. A fun environment is much more inviting, so here are a few rules that are absolutely worth breaking.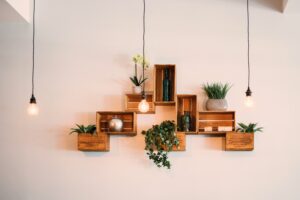 Home-style half-truth: dressers are only for the bedroom
Why not use a dresser all over the house? Dressers don't need to be the reserve of bedrooms. They add great storage and a sense of comfort to any space. They're great for storing unsightly essentials such as reams of paperwork and DIY tools.
Home-style half-truth: hang your pictures at eye-level
Every style guide tells us to hang art around eye level. However, breaking that rule allows you to play with scale, size and placement. A little bit of irreverence can add some personality! You don't actually have to hang your pictures at all. Resting them on shelving or putting large frames on the floor against the wall can have a really edgy effect.
Home-style half-truth: paint trim and mouldings white
Have you ever considered painting trim and moldings in bold colours? Imagine how fabulous it could look! We don't know about you, but we love to see a room with a pop of colour in. To do this without it looking too jarring, pick one of the more vibrant colours being used throughout the rest of the room and use it as a complementary tone. It won't look random then!
Home-style half-truth: you MUST have a sofa
Where is the rulebook that says that a living room needs to have a sofa? Several armchairs are absolutely just as good, and allow you to play with different styles and textures to create a really rich space. If you want to get even more wild, large bean bags and floor cushions make for an unusual and cosy alternative.
Home-style half-truth: small rooms must be painted in light colours
Color has the ability to dramatically transform a home but in small areas, people tend to avoid darker tones to avoid a shrinking effect these hues have on a space. However, understanding space and light is far more important to choosing the great paint than room dimensions. A deep tone can look so dramatic and sophisticated in a small space.
A downstairs toilet or guest bedroom is perfect place to try out forest greens, navy and dark grey. Paired with brass accessories, your space will look fabulous!
Home-style half-truth: artificial plants are sacrilegious
Real plants have many significant benefits, but you needn't turn your nose up at false ones! Looking after plants can require a lot of upkeep, which isn't feasible if you're really busy. Real or no, greenery brings a visual breath of fresh air and livens up any room, especially considering that artificial plants are much better quality than they used to be.