Ideas for garden party canapés
As Brits, there's not much we look forward to more than spending time out of doors in the summer. We've already spruced up the BBQ 101 in this post and prepped for your alfresco meal, so now you've covered the basics, it's time to get party-planning!
Preparing some canapés for a summer garden party/BBQ party is a great way to silence rumbling tummies as you wait for the BBQ; they also provide some 'light relief' from the pounds of red meat. But, you don't need to turn your kitchen into a Michelin star operation to turn out a few plates of stylish, tasty treats.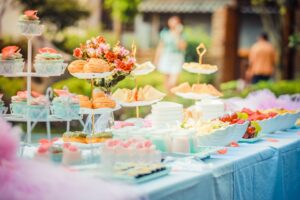 Getting started
Planning what you'd like to serve can save so much time and effort. You can double up on ingredients and create several light bites quickly and without spending too much.
For example, buying a block of pastry is a great idea. For example, puff pastry can be used to make tartlets, cheese straws and sausage rolls, and these three recipes combined on a platter will look varied and inviting.
We'd recommend creating at least one type of cheese canapé, as they are an extra option for your veggie guests who probably have limited choice from the grill, and they'll fare reasonably well throughout a warm day.
If you wish, save yourself the hassle of guessing how many of each canapé your guests will eat, and let them create their own.
Set up a kebab station with chopped veggies and deli meats on one side, and fruit and marshmallows on the other (especially good if you have a fire pit to grill the sweet stuff over!). Whatever your guests don't consume can be used to create a fajita mix (using the chopped veggies) or a fruit salad (with the fruits) the following day as a meal for the family.
For extra fun, create a theme. With the Royal Wedding, the Great British Street Party is a popular theme or why not choose your favourite cusine and go from there?
Love the authentic flavours of a Deep South BBQ? Throw a 4th of July celebration!
Do you have a hot tub or swimming pool (even a paddling pool will do)? Throw a glam pool party with smoked salmon blinis, champagne and strawberries and cream.
Recipe inspiration
Here are four delicious canapé recipes that will taste great even if the weather turns:
1) Grill king prawns and chorizo on the barbecue and make tasty, Med-inspired skewers. Separate the two with grilled peppers and onions, and sprinkle liberally with smoked paprika. They pair perfectly with homemade garlic mayonnaise.
2) Create mini jackets with new potatoes! Served simply with a little soured cream and chives and a sprinkle of coarse sea salt, they are a nice alternative to traditional potato salad. You can even add some different toppings if you're feeling creative.
3) Caprese kebabs are a delicious and light addition to the buffet, certain to please veggies and meat eaters alike. Load a kebab skewer with juicy cherry tomatoes, mozzarella pearls and fresh basil leaves, and drizzle with a mix of balsamic and olive oil.
4) Butternut squash soup shots are great on standby as the temperature drops in the evening. You can prepare the soup in advance and warm it as needed. A shot of warming soup along with some prosciutto wrapped 'soldiers' will keep guests warm around the firepit!