How to decorate your living room on a budget
As winter's dragged on, we've been indoors for much of our spare time, which gives us pause to evaluate our interior design choices. Pinterest and Instagram can give us serious home-envy, and it can be difficult to keep up with ever-changing trends. Despite what reality TV stars would have us believe, it absolutely isn't necessary to bring in a professional and squander all your money on refreshing the look in your living room. Here's how!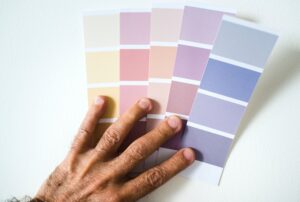 Getting started
Set a budget
There's no getting away from it – the more money you spend, the more fabulous your space can look, but you can also spend less and make some noticeable and positive changes. Work out what you can afford to spend and stick to it.
Get some inspiration
Yep, Instagram and Pinterest can be devastating to our bank balance, but creating some mood boards can actually refine what you want and help you budget accordingly. Besides, many of the beautiful features you see showcased can actually be recreated at a fraction of the cost.
Have a clear out
Sometimes, all you need to do to bring new life into a room is to have a thorough declutter. Starting with a blank canvas will help you feel motivated and allow you to get creative.
Little changes here and there
Soft furnishings
Changing up your soft furnishings is the easiest and cheapest way to give a room a facelift. Increasingly, comfort is king, and retailers are responding to that by introducing loads of colours and textures into their ranges of cushions, curtains, rugs and throws.
Why not have a soft and relaxing vibe by blending blush pinks and sage green? Want something more vibrant? Jewel tones are everything right now, with rich emeralds, amethyst and deep pink tones creating a luxe result.
While we always recommend letting your imagination go wild, either try to curb the spending with curtains and rugs or choose more neutral tones that will work with many different imaginings.
Furniture
Living room furniture can be expensive, so changing it up regularly isn't an option. However, you can personalise your furniture with paints. Many people opt for inexpensive plastic laminate furniture (IKEA champions this) and lament the fact that it cannot be painted. That's where they're wrong! Plastic laminate furniture absolutely can be painted, and it can be chip-resistant if you purchase the right products. Kimberly of Swoon Worthy has the perfect method here.
If you're pretty happy with the colour or want something a little less time costly, why not wallpaper the inside of a bookcase? It can provide some lovely details, particularly if you rent your home and can't cover the walls, without overwhelming the rest of the décor.
Spray paint
Dust masks at the ready! If you're anything like us, you love peppering your surfaces with photo frames, and potted plants to bring some personality into the room. We don't want you to hide away any of your precious memories, but perhaps your frames and plant pots clash with your new vision for the lounge?
Rather than replace them, which will get pricey very quickly, spray paint them to reflect the new colour palette. This season, brass is very in style to pair with pinks, or perhaps the rest of your room is quite neutral. In that case, some pops of bright colour would look fantastic, and your options are as broad as the range of colours you can find online!
Mindful storage
Consider how things are stored or displayed in your lounge. Is paperwork on show and making shelves look cluttered? Look for attractive filing options that will be in line with your new theme and look great on your shelves. Got lots of ornaments? Perhaps you have more not on display and you aren't sure what to do with them? Look into some display cases.
These needn't be expensive; Facebook Marketplace, eBay and Gumtree are all really good resources that can mean parting with pittance and allow for your to showcase your precious treasures or indeed your personality if you have figurines of cult figures you love or trophies you want to show off!
The great thing about all of these changes is that they're as permanent as you want them to be. If you want to keep up with interior trends, you can just undo and redo whatever you like with little elbow grease. Choose a different wallpaper or paint for your furniture and just cover up what's already there, or some new curtains and cushion covers can make some great adjustments to your space.
Unless you've grown to truly hate something you've featured in your home previously, don't throw elements away. You may want to reintroduce them at some point or use them in redesigning another room in the house. Get an underbed box and get them stored!