How to create your holiday home Welcome Folder
Your holiday property and the surrounding area may feel like home to you, but for guests arriving for the first time the experience can feel a little alien.
Where can we buy food? What's the wifi code? Where are the best pubs? How do we use the oven? Where should we visit?
Providing this basic information to your guests will make them feel more comfortable and appreciative of your efforts as a host. Create a Welcome Folder for your guests and their overall holiday experience will be improved immediately – encouraging great reviews and repeat business.
We're not reinventing the wheel here either, putting together your folder is easier than you think – after all, most of the information is at your fingertips already.
Here are our top tips for what to include in your Welcome Folder – a priceless resource that can be used season after season.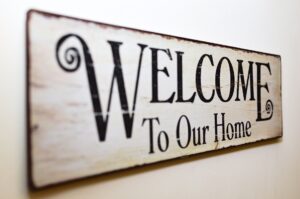 1. A simple welcome message
A warm message wishing guests a pleasant stay will leave them feeling appreciated and at home in your accommodation straight away. A hand-written welcome message will make it feel even more personal. Make sure to include your contact details too and let them know they can contact you during an emergency or if they have any questions.
2. Emergency information
To help guests feel safe and reassured, provide information regarding emergency services. Include the address and contact number of the local hospital, doctor, pharmacy, dentist, a garage and the vet (if you have a pet-friendly property). This will cover all eventualities and help your guests have a stress-free visit, no matter what happens.
3. Technology information
If there are any teenagers on the trip, the first thing they'll be after is the wifi password! Rather than having them searching the house, simply write the password and how to connect to the internet at the beginning of the welcome packet. Along with this, if your TV or any other electrical appliances are tricky to set up, write down basic instructions for how to get them up and running too.
4. Transport information and maps
It's easy to assume everyone will drive to your holiday home, but this may not always be the case. Including a route map and timetable for the local buses and trains ensures everyone is catered for – it's also a great way of getting out and sightseeing minus the car.
A number for a trusted taxi firm could prove useful, especially if visitors like to go out in the evening or your property is not within walking distance of a pub or restaurant.
It's also a good idea to gather some maps of the local area and place them in this section. Let your guests know they're free to use and take out, but you'd appreciate it if they returned them to the Welcome Folder after.
5. Attractions and amenities
This will be the longest section of your Welcome Folder! Your guests are here to have a great time and you need to help them along the way. You can include as much or as little as you like, but here are some ideas on what you could include:
Information of amenities your guests might need such as the nearest ATM, supermarkets, banks and local shops;
Ideas for days out, for example, things suitable for families, kids or couples to do. A rainy day page is also handy – we can't rely on the British weather (think cinemas, galleries, museums and theatres for this one);
An information page about local towns or villages worth a visit;
Recommended local pubs, cafes and restaurants. You can make this one really personal and include all your favourites, perhaps include menus or flyers? Takeaway menus are useful for those looking for a cosy night in too;
Local routes for walkers and bikers are a great addition for adventurous types;
If you rent out a coastal property, a list of local beaches with information about their amenities (e.g. dog restrictions, toilets, cafe, play area);
Information on the big events and festivals of the year. It will need regular updating but it's worth it for the enhanced guest experience!
6. Other important information
There's so much more you could include in your Welcome Folder but concentrate on what's relevant to your home and the information you'd find useful if you were in your guests' shoes. It could be anything from household waste collection dates, rules for dogs in the house, and general housekeeping.
Have a good think about what they need to make their stay enjoyable and memorable and you'll be safe in the knowledge your guests are well-prepped for an amazing holiday.