Quick guide: Barbecue-101
It might be a bit early to think about getting your grill on, but if the last few weekends are anything to go by, it's BBQ weather all the way this year. We love a good barbecue and think as long as it's dry and you've got some layers on hand if it gets chilly, there's no reason you can't enjoy a barbecue anytime.
If you're new to BBQing, it can be difficult to know where to start and there's a solemn respect for the craft that can make it intimidating to ask for help!
This week we're giving you a BBQ-101 so you can get in on the act!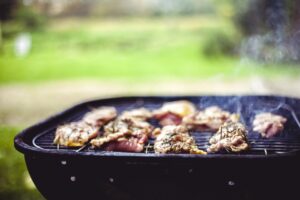 Preparation is key
It's important to invest in a decent barbecue. You don't need to spend silly amounts but one with a cast iron grill is a great place to start and be sure to choose one big enough to cook for large groups if that's your plan. Additionally, buy a good-quality grill brush; cleaning your grill regularly will guarantee it stays non-stick.
Before firing up, lightly oil the grill surface using a clean, old tea towel or kitchen roll. Fold it up, coat sparingly with vegetable oil and, using a pair of tongs, brush the grill surface. This process later creates those appetising grill lines on the meat.
The enduring British spirit will overcome any weather, but you should still plan for drizzle to ensure your guests stay comfortable. A pop-up gazebo is your best friend in the event of an unexpected downpour.
Whatever takes your fancy
Always observe barbecue Health & Safety by regularly washing your hands when dealing with raw meat. It's also important to wait until the barbecue is hot enough before starting to cook.
On the grill, create a 'safe zone' where there aren't any flames. If the grill gets very hot you have a section to move food to where it won't burn.
If you're committed to some rich and complex flavours, plan in advance and marinate meat over tonight to ensure the flavours permeate it. BBQ, jerk and teriyaki marinades can all be bought in supermarkets, but if you want to get creative, there are some great recipes here.
Top tip: if the meat is too 'saucy' when it hits the BBQ, it's more likely to burn or flare, so blot away any excess beforehand.
Don't put meat straight onto the grill from the fridge. Allow it to come up to room temperature, or it could burn on the outside before it's cooked through to the middle. Be sure to cut into white meat to check whether the juices run clear, lest you poison your guests!
Fire it up
If you opt for shorter and thicker cuts of meat, you'll develop a tastier crust and allow for juicy meat. Rib-eye steak and chicken breast are great meats to start with.
Once the meat is cooked to your liking, it's a good idea to rest it for a few minutes to let it re-absorb its juices and become even more tender – yum! Add glazes or sauces toward the end of cooking, or the sugars in them will burn.
To avoid timing issues and extra stress when you're meant to be enjoying yourself, make easy side dishes earlier in the day.
Pasta can be enjoyed warm or cold, and a cool, crisp Caesar salad is the perfect accompaniment to grilled chicken.
However, before you get too fancy with your sides, ensure you have the staples! Your guests will never forgive you if your forget cheese slices, buns, mustard or ketchup!
A list of "must nots" . . .
If some of your pals are veggies, make sure you cook their barbecue food away from meats;
Don't underestimate how much people will eat. If you're enjoying a few alcoholic drinks, people will have a hearty appetite!
Don't organise last minute. Have at least charcoal and firelighters to hand, because they sell out quick when the sun comes out;
Don't overthink it. Most people are content with a traditional hotdog or burger, so keep it simple!
We've been cooking food in this way for thousands of years. There's not much to it! Have a few BBQ recipes to hand as the summer spirits us away, and the flames will soon be burning if the weather's nice!