Housework: how often?
No matter what our lifestyle looks like, everyone can probably agree that there aren't enough hours in the day, and yet we seemingly have to devote so much time to have our homes looking spick and span. So, how often should you clean your house? Daily? A good scrub once a month?
According to survey by cleaning experts Jeyes, only 47% per cent of Brits state that they regularly clean their homes. According to Laura Vanderkam, stay-at-home mums in 1965 spent 34.5 hours a week on housework, compared with (both working and stay-at-home) mums doing about 17 hours a week today, which is still a significant time. Even if you're not too worried about keeping up appearances, harmful bacteria will have the potential to run riot across your home, compromising your family's health.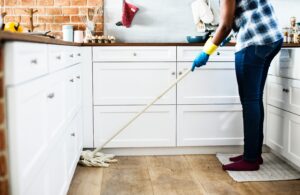 Please rest assured that this blog is absolutely not a polemic on the virtues of spending every spare moment cleaning everything in sight. However, we think it's best practise to have a rough schedule to make sure that you're carrying out household jobs often enough to keep you all in good health. It's difficult to know how often; some things may require your attention more often than you think, whereas when it comes to others, you might be subjecting them to a bit of overkill.
Here's our breakdown of what needs doing and when as a guide for a little more harmony in the home!
Every Day
Do a sweep of the house to pick up any dirty clothes and linens and pop them in laundry baskets;
Sort any mail and recycle anything unsolicited;
Wipe down bathroom sinks, the shower tiles and bathtub after each use. A big scrub isn't necessary, just avoiding large drying lumps of toothpaste or clumps of hair;
After meals, clean tableware and cookware either by washing up in a basin or loading the dishwasher. Wipe down counters and sweep up any debris from the floor. If you have a range hood, wipe this daily too as they can become thick with grease. The filter can be cleaned monthly.
Every Week
You may need to do laundry more often than every week, but if the volume of dirty washing allows for it, try to limit loads to once a week;
Hoovering doesn't need to be done daily, but a good zoom around the house each week will keep carpets and floors clean;
Clean the loo, no matter how unpleasant the prospect! No need for extraneous detail here, but a weekly clean is both necessary and sufficient;
Dust may seem inoffensive, but it's made up of human skin cells, fabric fibres and dust mite excrement amongst other delightful materials. It's certainly not welcome in the house and can aggravate allergies and respiratory conditions. High traffic areas like electronics, furniture and shelves need to be done weekly, but ceilings, corners and skirting boards can be done every few months;
Bodily secretions accumulate faster than you might think in bedding – unsurprising when you consider we spend a third of our lives lying in bed. Sheets should be washed weekly at high temperatures to kill off germs.
Every Month
Give your washing machine a good clean once a month. It's easily done, just a cup of white vinegar to the detergent drawer and run an empty hot cycle;
Similarly, clean your dishwasher once a month. Clean the racks separately with warm soapy water, then grab another cup full of white vinegar and then run the machine at its hottest cycle to eradicate grease, bacteria and odours. Detergent drawers and rubber seals should be cleaned after every few washes, but only need a light wipe and rinsing;
Cleaning your windows isn't a five minute job and getting them streak-free can take a lot of elbow grease, so we recommend rotating them every few weeks, but keeping on top of a cycle will allow you to keep enjoying the sun rising and setting through them each day!
Your shower, bath and sink need a thorough clean a minimum of every few weeks – left for much longer, mildew will spread and increase the likelihood of damp.
Every Few Months
It's the dreaded task for most of us, but it's important to keep on top of the oven cleaning as often as every six month. Use specialist deep-cleaning products to produce a high finish and avoid scouring the insides of the oven in case you damage the lining;
It is reasonably priced to rent a steamer to clean the carpet, and it can lift up and clean away deep-rooted dirt and bacteria and break down any stains that are discolouring the fibres. Family members prone to allergies will thank you for it!
We wash our sheets frequently, but our duvet and pillows are laundered much less regularly. If you don't have a sufficiently large washing machine, bundle your bedding up and send it to the dry cleaners. Ordering a job in bulk can mean a discounted sum.
Annually
Upholstery needs to be cleaned each year at a minimum to eliminate bacteria and stop musty smells from developing. You'll also improve the air quality and the colour of the fabrics.
This seems like a really rigid list, but these jobs don't all need doing on the same day. You don't even need to create a stringent timetable – just a reminder on your calendar for the less frequent tasks!