Hottest interior design trends for 2019
Whether you live by them or navigate your own style, trends will always influence design, keeping creatives developing new looks. When it comes to interior design, trends dictate seasonal colours, textures and popular period pieces. All trends evolve, but some just remain popular for longer periods of time; the nautical theme is still going strong years on!
Read about the key trends for 2019, and consider all the ways you can update your existing interiors. It doesn't need to cost an arm and a leg either click here to decorate on a budget. For now, here's how to stay in style!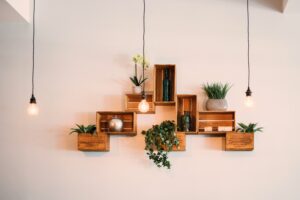 Retro Throwback
Mid-century stylings are being embraced in a big way this year, from the scalloped furniture shapes of the 50s to the warm colour palette of the 70s.
In terms of colours, you want to think of earthy brights – ochre, forest green, tan and burnt orange. Mustard yellow is huge this year (searches on Pinterest for mustard interiors are up 45%), whether in this throwback style or paired with a cool grey for a Scandi vibe. In the retro context, these bold colours are supported by luxurious leather, velvet and deep-toned woods. Furniture is characterised by smooth lines, tapering support structures and simplicity.
Geometric wall prints, rugs and curtains really contribute to the retro authenticity, with a collectively growing commitment to statement pieces in our living spaces.
Gentle Botanicals
Increasingly, we're inviting houseplants to share our homes with us, with indoor gardening becoming considerably more popular. We're not surprised, it's so calming and uplifting! If you've taken a real liking to having plants around, you can easily theme a room based on the greenery you already have to emphasise your relationship between yourself and the world around you.
Tropical interiors have come into and out of fashion since the Tiki-themed basement bars of the 50s, but for 2019, the colour palette is very desaturated, with soft yellows, nude and duck egg blue to complement the leafy greens on your indoor garden. Botanical prints are plentiful, with palms, aloe vera and cacti being the most popular. Buff leather, washed out wood tones and suede make this style feel right at home. To contrast, bold wallpapers with plant patterns are going strength to strength! Plus, if you're acutely anticipating the summer, welcoming in a summery vibe will ease the wait!
Stripped Back
Graduating on from the serene Scandi-style is a renewed, stripped-back vibe with plenty of texture and well-placed patterning for effortless style. Where Scandi-style was very globally-inspired, 2019 is going to be much more understated.
Furniture, fabrics and accessories are tactile and impactful, from thick knit throws to deep pile rugs and the somewhat surprising return of wicker. Not to go "too Marie Kondo", everything is to have its place, and all pieces should be chosen mindfully. For furniture and accessories, think untreated wood, robust ceramics and rough-hewn rugs.
Refined Glamour
Blush pink is here to stay, like it or not! We love it, and are currently updating our lounge with lots of these soft tones. We love some refined glamour – modern chic influenced by decadent mid-century stylings in the form of fringing, metallic accents elegant shapes. Whilst gold is still a great partnership for blush pink, it's being edged out by pewter and the high drama of marble and smoked glass.
Lighting plays a big part in this look with statement shades, and metal-edged mirrors and hanging wall art create an sophisticated environment. It's a feminine, relaxing and fashion-forward trend, and we can't get enough! If you don't know where to start with the shopping, the Michelle Keegan Homeware range for Very is the perfect inspiration.