Hit the gym? Nah, clean the house instead!
The average person in Britain spends 16 hours a week cleaning. That's nearly 35 days a year. That's a lot of time spent scrubbing, sweeping, and shining. At the same time, you've probably heard that we should all be getting at least 30 minutes of exercise, 5 days a week.
But the question on all our minds is this: how on earth do we squeeze 30 minutes of exercise between our hectic work schedules, school runs, cooking, family time and that pesky 16 hours a week we supposedly spend cleaning?
Well, how about spending those 16 hours working out? And, no, we don't mean skipping the cleaning altogether and signing up for the gym, leaving your house to become a dusty dumping ground!
We mean turning your daily cleaning routine into a workout.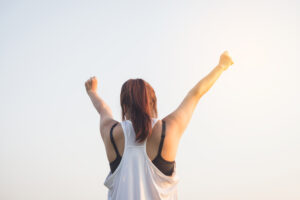 New research has shown that cleaning, gardening, and generally maintaining a house is a workout in itself.
All that dusting, vacuuming, wiping, and laundry-carrying add up to a lot of 'incidental activity'. Some fitness experts believe that incidental activity can be even more beneficial than working out at the gym. That's because we're much more likely to stick to it, helping us maintain a healthy weight and lifestyle long term.
You have the potential to burn up to 250 calories an hour just by cleaning, and the number is even higher if you're gardening. Another benefit to cleaning is that you use broad range of movements – from stretching to bending, and lifting to walking – you're using all your major muscles.
That's right, no need to go to the gym and wonder what each and every individual machine will do for you. Cleaning is a full body workout!
So now we've shared the good news, let's take a look at how many calories you can shift whilst doing some of the most popular household chores, according to nutritional website Calorie Lab…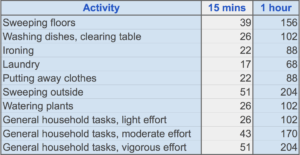 That's a whole lot of calories being burned without even realising it!
While cleaning itself is a great workout, there are some ways we can intensify it even more. As with a standard workout, the more you move, the better. Here are our top tips to reach the maximum calorie burn and the shiniest home all at once.
1. Put on some energetic music
Putting on your favorite upbeat music will not only make cleaning more enjoyable, but it will help you mop harder and wipe faster to the beat. Even having a boogie to your favourite song in between chores will help burn extra calories!
2. Make use of the food cabinets
Having a clear out of your food cupboards? Take the opportunity to use those old cans of baked beans for arm-toning. Raising and lowering unopened cans is an excellent way to strengthen arms and back muscles. Plus, it gives something for the kids to giggle at!
3. Use standby time wisely
The kettle is boiling, the microwave is ticking, and there's 10 minutes left on the washing machine. Instead of sitting down for a quick breather, use the time to up the cleaning ante. Jog around the room, hop on the spot or do some star jumps to add some extra oomph to your routine. Feeling energetic? Take it the extra mile and challenge yourself to do 20 squats, sit-ups or push-ups every time you're waiting for something.
Now you can be happy in the knowledge that a healthy, happy body is achievable at the same time as a sparkling, spotless house. Happy dusting!