Get a glorious garden in time for summer
As Brits, we are uniquely skilled in optimising all of our time outdoors; we're steadfast in enjoying the warm weather when we're so used to grey and drizzly skies. Given that we experience so few truly glorious days, we don't want to spend time toiling in the garden to get it looking up to snuff.
Here are our tips for transforming your outside space into your very own corner of paradise; somewhere beautiful to relax, socialise and dine right through until Autumn.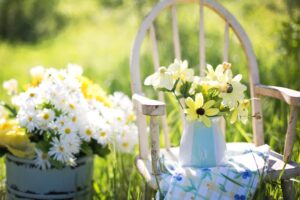 Fancy fencework
Even the mildest winter can do a number on your fence's paintwork, so each year, it's a great idea to give your fence a makeover with a fresh lick of paint. Using Creosote or similar as a treatment will give the fence an extra layer of protection from those hot sunny days, and you can get as creative as you like with the colours, from brilliant white to pastels to bold brights.
Lay your love on the lawn
Many people really enjoy the wild nature a British garden can take on if untamed but if you want a more functional social space, start by mowing the lawn. A neat, lush and bright green lawn is so inviting.
Don't cut grass to less than a centimetre in length or it will look less healthy than it really is. Don't worry if there are any sparse patches. You can reseed the lawn with a grass seed mix to build up some growth. Run over it with a rake before treating it and intermittently throughout the summer to ensure light and water are getting into the soil.
The need to weed
Weeding is a headache for most people, but there's nothing like the satisfaction of it being done. Make your life easier, and purchase a weed killing product and allow it to work for a while before tackling the weeds. Once you get to work pulling out these uninvited guests from your flower beds, you'll be astounded by how much you can achieve in a short time.
Want to distribute the workload? If you're hanging the washing out and see a weed, pull it up and dispose of it straight away! Your garden will be clear in no time. However, if you can't bear the thought of weeding, just spread fresh mulch on the flower beds and put it off until Summer 2020.  Don't worry, we won't tell anyone!
Give furniture some TLC
If you're glamming up in a pretty sundress or some elegant white linen trousers, you really don't want them spoiled by grubby garden furniture. Bring it all out of storage, and give it a jolly good scrub with hot water and dish soap. Once it's clean, rinse it off (a garden hose is really helpful here) and allow it to dry in the summer air.
Don't get too trigger-happy with the garden gear though; power washers can be extremely detrimental to wooden furniture. If you want it looking really special, a fresh wood stain or coat of paint will bring out the best.
Don't dread the shed
Okay, without looking, could you tell us exactly what's in your shed right now? We suspect the answer will be a resounding 'no'!
There's no time like the present; get ruthless and get rid of everything you don't need. Check all expiry dates on cleaning and gardening products and any plant and animal food – safety first!
So, once you're done, sit back, grab a cuppa and enjoy the fruits of your labours – now we just need to work out how to harness the perfect weather!