25 fun things to do with the kids at home this summer
The summer holidays are here, and before you know it, we'll be inundated with cries of 'I'm borrrrrrrreeeeed!' from our precious little ones! But resist the temptation to hand them the iPad and avoid spending a fortune on days out – all you really need are a few bits and pieces and some imagination and creativity. The result? Summer holidays harmony – everyone's happy!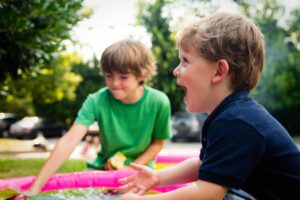 Here's a handy list of 25 things you and the kids can do at home this summer. They don't cost and arm and a leg and will create more memories than an hour spent on YouTube.
1. Build a fort – all you need are some chairs and blankets.
2. Bake cakes and biscuits – simple is always best. If you're not confident in the kitchen, buy some plain digestive biscuit and decorate them with ready made icing and sprinkles.
3. Junk modelling – a roll of tape and the (clean!) contents of your recycling bin can keep the kids quiet for hours.
4. Have a picnic – in your back garden, or, if the weather isn't up to much, in your living room.
5. Have a water fight – always a winner on a warm day. Just make sure you have plenty of towels to hand.
6. Decorate the garden with chalk – let them loose on the patio or the outside walls. Rain or a quick blast with the garden hose will soon wash it away.
7. Have afternoon tea – make (or buy!) some delicate little sandwiches, cakes and scones. Serve juice from a teapot into little cups and saucers and lay out a nice tablecloth for a special afternoon treat.
8. Create your own comic – all you need are paper, pens and some imagination.
9. Make puppets and put on a puppet show – use bits and pieces from your craft stash or the recycling box to make your own puppets. You could even use old odd socks.
10. Make a small world – these can be as simple or as complicated as you want them to be. Put a big tray on the floor, fill it with some cheap cereal and let them play with their diggers and trucks for hours of fun.
11. Have a fashion show – who can create the wackiest outfits and hairstyles for the show?
12. Make pictures with natural materials – collect leaves, twigs, flowers, seaweed and shells and see what masterpieces you can create. Dandelions make excellent paintbrushes.
13. Paint rocks – collect some rocks and paint them for cute garden ornaments or paperweights. Glue some googly eyes on to give them a bit of personality, and don't forget the varnish.
14. Make old-fashioned lemonade – all you need is a blender, some ice, some unwaxed lemons and sugar. Fun to make and yummy to drink.
15. Create a treasure hunt – bury or hide some cheap costume jewellery or gems, or paint some stones. Make a treasure map and queues. You can do this on the beach, at the park, in the garden or around the house.
16. Look for mini beasts – look under bits of wood and stones. How many different ones can you find?
17. Make pasta jewellery – paint some pasta tubes and thread them onto ribbon or string for colourful bracelets and necklaces.
18. Make homemade paint – there are plenty of recipes online using ingredients you will probably have in your cupboards. Experiment with making different colours.
19. Dig out dinosaurs – freeze some plastic dinosaurs in different containers of water. See who can find a way of digging out their dinosaur the fastest.
20. Bake – start off with basic cupcake or biscuit recipes if you're not confident in the kitchen .Half the fun is decorating them.
21. Plant seeds – it's the perfect time of year to plant sunflower seeds. They're quick to start growing as well which is great for impatient kids.
22. Star gazing – line your trampoline or empty paddling pool with duvets and pillows, lie back and look at the stars on a clear night. What constellations can you spot?
23. Write a sentence every day – take a notebook or a sheet of paper and write one sentence every day. At the end of the holidays, read through it and see what story you have created.
24. Homemade play dough – again, there are various recipes and methods online for creating your own play dough. Keep it in an airtight tub and it should last the holidays.
25. Water play – kids of all ages love water play. Whether it's in the paddling pool in the garden, a washing up bowl on the patio or the bathtub, they'll have lots of fun. Add bubbles, containers to pour from and flower petals!
Are you too busy having fun with the kids to clean? Can't face it after they've gone to bed? Give yourself a break too and let us do the hard work for you! Head over to our contact page to get in touch and arrange your clean today.