F-eastern fun: a healthy lunchbox idea for the new school term
Are you lacking lunchbox inspiration? Maybe you want to introduce healthier options into their diet? Changing your children's diet may seem daunting no matter what their age, but it's not going to get easier as they get older, so there's no time like the present!
One search on Pinterest or Instagram will yield lunch boxes so beautiful that they'll bring a tear to your eye. In recent years, Japanese bento boxes have become extremely popular for packed lunches for the kids. Some of these meals belong in an exhibition case rather than your little darling's school bag, but simpler versions are achievable with a really small investment and a few new techniques!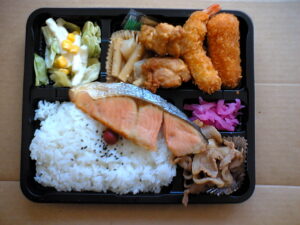 The bare bones
A traditional Japanese bento is a single-portion take-out or home-packed meal common in Japanese cuisine with several different elements in separate compartments. There's a social expectation for Japanese mothers to make bento for their children to take to school, and presentation plays an important role. It can take a while, so some mothers will prepare the ingredients the night before, but you needn't slave away for hours!
Look for a quite shallow container with built-in dividers to keep food from being jostled about; especially if you're making an effort to make the food look inviting!
Perseverance
Once children are old enough to chew, there is no reason their menu at home and in restaurants should look any different than yours. Rather than desensitising kids to vibrant textures and flavours by feeding them white bread and chicken nuggets (although once in a while is okay!) they'll experience 'real' food in all its glory!
Children can need to try new foods up to fifteen times before they'll eat it without hesitation. Keep reinforcing how good the new foods are for growing bodies, and reward them with lots of praise when they are adventurous enough to give it a go. You may have to pick out sweetcorn or onion for a a good while, but you're playing the long game!
Fussy eaters?
Kids are more likely to try something new when paired with foods they already enjoy. Do they often snack on strawberries and grapes? Try adding a small amount of an unfamiliar fruit like mango or papaya to their fruit pots. Do they typically have a sandwich with lunch? Incorporate a few spinach leaves and a slick of pesto to a turkey butty. If you think they'll need convincing, the first taste is with the eye.
Use small cookie cutters in various shapes to persuade them to give new fruits or vegetables a try. Larger cutters are great for making fun sandwiches. If the presentation is appealing and they're excited to eat something they love, they might be willing to experiment with flavours.
Variety is the spice of life
Using bento boxes for packed lunches is fantastic, because you can keep the kids interested with lots of different options. Separate compartments also keep foods from touching. If your lunch box doesn't come with built-in dividers, compartments can be created by using small silicone baking cups.
Research shows that children prefer plates with six or seven different foods in as many colours as possible. Variety is appealing to limited attention spans, and even if you're risking something new and your children leaves that portion untouched, there will be several items they can still graze on.
Our top picks
'Bagel' pizzas using wholemeal bagels; you can reinvent this one constantly with different types of cheese and toppings;
Edamame beans and sugar snap peas are crammed with vital nutrients.
Houmous, and things to dip in it! Multi-seed breadsticks, peppers, carrots and cucumber make a filling snack;
Yogurt-covered pretzels and popcorn can curb salt cravings in small portions;
A boiled egg, halved and sprinkled with smoked paprika has plenty of protein;
Homemade trail mix with a healthy cereal, dried fruits, dark chocolate drops and mixed nuts is perfect for small hands.