Shape up with some cleaning calisthenics!
What if we told you that you could obtain the svelte figure of fitness fanatic Elle MacPherson in just a fortnight by doing some light dusting? Well, clearly, we'd be liars!
We can't promise that, but today we want to highlight just how much you can do for your body in addition to benefitting your home by carrying out household tasks. You may find that you're more motivated to clean your home and get your body moving with us laying it all on the line!
Each week, the average Brit spends 16 hours cleaning. Over the course of a year, that adds up to more than a month and certainly contributes to our recommended dose of 30 minutes of fitness, five days a week.
All that dusting, vacuuming, wiping, and laundry-carrying add up to a lot of incidental activity –  up to 250 calories an hour! You're also employing a broad range of movements – from stretching to bending, and lifting to walking – all your major muscles get some love.
Making an effort to clean more to do our bodies some good is a no-brainer, it's just a case of how to incorporate it into our busy lives! Some fitness experts believe that we're much more likely to stick to a thorough cleaning routine that dragging ourselves to the gym, so there's certainly the potential to maintain a healthy weight and lifestyle long term.
You heard it here first – cleaning is a full body workout!
So now we've shared the good news, let's take a look at how many calories you can shift whilst doing some of the most popular household chores.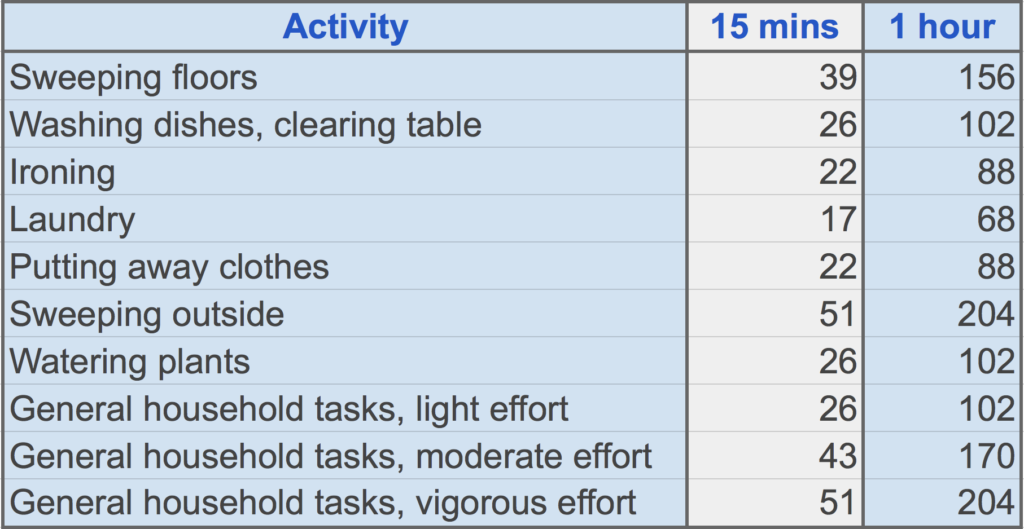 That's a whole lot of calories being burned without even realising it! For reference, a Jaffa Cake has about 46 calories, so if you generally have a healthy lifestyle, you can afford to have a few more treats when you adopt a more fitness-orientated cleaning schedule.
In order to optimise weight loss and muscle developing as you clean, you need to intensify your activity. Simply put, the more you move, the more you burn. Here's our recommendations for get the blood pumping!
Move to the beat
Not only does hearing our favourite music put us in a good mood, it's also extremely motivating. Choose something upbeat and you'll find that you sweep and scrub and harder and wipe and vacuum the carpets faster.
In between chores or whilst waiting for the mop bucket to fill or spray cleaners to do their work, have a right ol' boogie and burn those extra calories!
Use what you have
Home gym equipment is not just expensive, it's a pain to find a home for. There is absolutely no need to buy a whole set of dumbbells to make great strides in your fitness at home.
Raid the cupboards and use cans of baked beans for bicep curls to tone your arms. Raising and lowering unopened cans is an excellent way to strengthen arms and back muscles.
Maximise your time
The kettle is boiling, the microwave is ticking, and there's ten minutes left on the washing machine. Instead of sitting down to catch up on any telly, use the time to incorporate some more exercise. Jog around the room, hop on the spot or do some star jumps to add some extra oomph to your routine.
If you can manage, really challenge yourself to do 20 squats, sit-ups or push-ups every time you're waiting for something. Now you can be happy in the knowledge that a healthy, happy body is achievable at the same time as a sparkling, spotless house. Happy dusting!