All that glitters: Christmas trends 2017
When the streets fill with lights, cards and wrapping appear in the shops and we start to hear cheesy tunes on the radio, it can mean only one thing: Christmas is on the way!
It's one of the most exciting times of the year – for kids and grown ups alike – and for good reason too. We get to exchange gifts, stuff our faces with too much food and drink, spend time with friends and family. But before all that, as the season gears up, we put up the all important Christmas decorations.
This year, ditch the sparse artificial tree and mismatched baubles and embrace a brand new, on-trend colour scheme. There are some amazing schemes in fashion this year with something to suit all types of homes and tastes.
Here's a rundown of Christmas trends tipped to be the must-have schemes of 2017. Which one will you fall in love with?
Scandi-style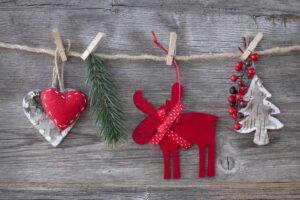 If there's something Scandinavians know better than most, it's a cold, hard winter. So who better to take inspiration from than the people who really know how to make a home feel cosy?
Scandi-style is minimal yet beautiful, utilising classic reds and white plus cheerful Nordic patterns. Keeping to this simple colour combination, select a mixture of textures when choosing your decorations. Think tin, wood, felt and embroidered pieces to really jazz up a neutral room.
This is a great style choice for homes on a budget because you can make many Scandi-style decorations yourself. For instance, take an old photo frame, paint it a warm grey tone and use it to hang lots of pretty, rustic decorations in (like the ones above).
Add cosiness to living areas with snuggly blankets and rugs – they will both instantly 'warm' up the room. Whip up some hot chocolate or mulled wine, dim the lights and light some candles and you've got your very own Nordic grotto!
Silver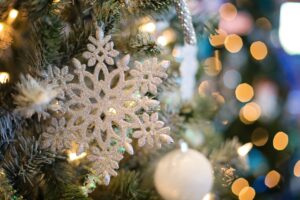 Sparkling silver has always been a popular choice for Christmas colour schemes and this year is no different. However, silver gets a reboot for 2017 by coordinating it with subtle charcoal and grey shades. This will give you a completely new and up-to-date take on the festive favourite.
When choosing your decorations go for soft greys, shimmery silvers, charcoal and winter whites; crystal and glitter decs will add some glitz too. Combine with rustic elements such as frosted pine branches, snowberry and eucalyptus for a truly 'Frozen' feel.
Around the home, go all out and scatter sequinned silver cushions for sparkly sitting areas and liberally drape ice-white or pale blue fairy lights to cast a frosty glow.
If sparkle is a bit too disco for your tastes, gather more winter foliage to dress tables and mantelpieces with. It's a simple way to create a stunning look, especially when combined with fairy lights or tealights.
Guests coming to stay? Transform bedrooms into wonderlands by layering faux-fur throws, cosy cushions and soft quilts to combat icy winter nights. There are some lovely festive designs around that will make your guests feel like they're in a fairy tale.
Classic gold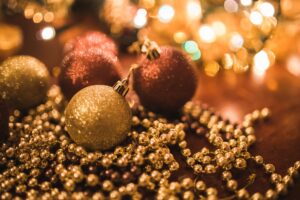 Gold: it's the colour of wealth, glamour, opulence and indulgence so it's no wonder it's another enduringly popular Christmas colour scheme. However, it's often teamed with a contrasting colour, such as red or green. For 2017, gold in all its glory gets the spotlight to itself.
Select a mixture of gold decorations to get the tree glowing! When sticking to one colour it's important to introduce variety through shape and texture so choose shapes, such as stars, snowflakes, and hearts, and textures such as glitter, metal and wood (tinsel is a great cheap filler too).
For a glowing Christmas table, scatter confetti across a tabletop and intertwine warm-white fairy lights around gold votives and candlesticks. Create a unique and contemporary table-centre with a piece of driftwood bedecked with tealights and sprinkled with gold glitter.
Coordinate your Christmas wrapping for a dazzling display (looks great for any of the colour schemes we've mentioned). Gifts wrapped with gold ribbon, bows and mini baubles will add a warm, twinkling glow as they sit under the tree.
Country-chic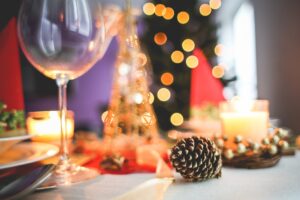 Give this traditional country theme a modern edge at Christmas, by teaming it with strong colours and geometric patterns.
Combine rustic wooden decorations with bold, monochrome baubles and accessories, such as stripy stockings and quirky or nostalgic ornaments. Use oversized decorations to make a statement, such as giant ceiling-hung paper stars – they really add the wow-factor!
The same applies to dressing the tree: seek out funky baubles and strong patterns along with some matt-finish accessories to complete this bang on-trend look.
You can really have fun with the country-chic scheme on the Christmas table. Mix and match bold patterned place-mats with contrasting cutesy woodland crackers and opulent gold cutlery – less is more? Not here!