6 ideas for a cosy home this autumn
At the time of writing this blog (late September), bumper Christmas editions of housekeeping magazines are already filling the supermarket shelves. Browsing the pages of these glossy mags is almost irresistible – giving you a rare glance into the homes of celebs and interiors designers alike – but it can be a bit depressing if your own home doesn't feel as cosy and welcoming as it should.
We generally accept that spring is the season for making changes around the home… fresh starts, spring cleans and all that. However, we think that autumn is equally important, after all we're going to be spending more time indoors for quite a few months to come.
Therefore, if we're going to be cooped up, we think our homes should be the cosy, comfortable and peaceful sanctuaries – somewhere to flee the cold and the demands of life in the fast lane. We're not talking radical changes here, just a few seasonal tweaks that will transform your living space into a winter wonderland. Here are our 6 top tweaks…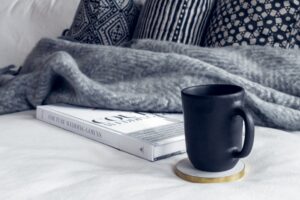 1. Get rid of it
Clutter – most houses are full of it: junk mail, piles of books and unwanted gifts creep up and stack up without us even noticing. Crammed into every nook and cranny, clutter's not pleasant to live with our look at. Homes with lots of clutter can feel claustrophobic rather than welcoming. Before reinventing your home, it's worth de-cluttering first to prevent chaos in both the home and in yourself.
Why not read our blog for tips on decluttering?
2. Evoke all the senses
Introducing soft textiles and tactile furnishings is one of the easiest ways of adding warmth and cosiness this autumn. Touchable items are so comforting: a worn book case, a leather wing chair, heavy velvet curtains you inherited… all of these add warmth, texture and comfort to a room.
Tiles and wooden floors certainly look stylish, but you can soften up a room by putting a fluffy rug in the centre. Choosing a round rug will ease the harshness of furniture and window edges.
Replacing a coffee table with a fabric ottoman is a fantastic idea to create more soft spaces in your living room, you can rest your feet on something cushioned, and you can choose a gorgeous tray to sit atop the ottoman for your coffee and candles.
Got kids or pets? Soft furnishings can suffer but we have some great tips for cleaning them right here on the blog.
3. Don't let the walls close in
When it comes to choosing paints, earthy colours create a relaxing atmosphere. The warmth in these tones is perfect for a feature wall surrounding a fireplace, as it'll give the illusion of greater heat emanating from this space.
If you have high-ceilinged rooms, leave several inches unpainted where the wall meets the ceiling to make the ceilings seem less high, and therefore cosier.
Learn more about dressing and colouring your home to reflect your personality here.
4. George (or Jane!) of the Jungle
We totally suggest going completely over the top when it comes to houseplants. Houseplants are a great way to add warmth and life to a living room, as well as contributing a gentle and grounding vibe. Not only do they look beautiful, they'll also purify the air in your home, and additionaly oxygen does wonders for one's sleep routine and overall wellbeing!
Read our blog and find out the best houseplants for your home. Not got green fingers? No problem, these are the easiest houseplants to care for.
5. "It's like Blackpool Illuminations in here!"
One of the most important factors in how a room looks is something most people usually don't even think about: light. Too much or too little, and a room can either seem harsh and clinical, or transversely, claustrophobic. Rooms should have a good amount of natural light in them to feel fresh and inviting, but you can add voile panels over windows to bring this level down if it's too bright.
Ensure you have multiple light sources in your living room. Bright lights are important for gatherings or fiddly tasks, but low lighting can make a night in or small gathering seem that much more intimate.
In addition to your ceiling light, have a table lamps to bring lighting down to a human level. Candles are a gentle light source that instantly suggest relaxation. Fragrance is a personal thing, but we find the most cosy candle fragrances are oak, cedar, tobacco, amber and leather.
Switch out 'cool' light bulbs and replace them with 'warm' ones. This is a tiny and immediate change that will totally reinvent the vibe in your living space.
6. Be kind to you
How you present your home goes a long way to how cosy it is, so we recommend opting for plush and varied textures to make you want to curl up on the sofa, dig your toes into the cushion and enjoy a good book with a cuppa. Enjoy creating your own little haven, away from the cold!