10 tips for alfresco entertaining
The summer months are the perfect time to get outside for some alfresco entertaining, whether you have friends round for ice-cold cocktails or host a barbecue for friends, family and neighbours.
If you have suitable outdoor space for alfresco entertaining, you're relatively lucky – so here are our 10 top tips to make the most of your garden this summer.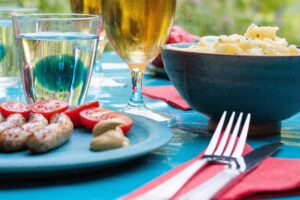 1. Prepare privacy
If you don't like being overlooked, plan your garden over the long term so you have a private space to entertain friends in.
Fences, trellis covered by climbing plants, and mature shrubs can all add height to your borders – just make sure you don't fall foul of any planning laws or start a border dispute with your neighbours!
2. Clean surfaces
The hard surfaces in your garden should be quite easy to clean with the right pressure washer or algae remover, so there's no excuse for them being grimy when summer comes.
Give them the onceover when the weather improves in spring, and they should need little to no more attention throughout the summer.
3. Set the table
Just because you're outside, it doesn't have to mean you give up on the comforts of fine dining, so don't forget to give your table an attractive centrepiece.
It might feel odd putting flowers on the table when you're surrounded by your garden, but it helps to connect you and your guests with the abundance of nature that's all around you.
4. Soften the space
An extension of setting the table is to soften the area in general if you're entertaining on a hard patio, wooden deck or concrete yard.
Pot plants and hanging baskets can bring some nature into the area, while candles in protective holders or repurposed jam jars can provide some natural-looking, flickering illumination.
5. Cut the grass
For some people this goes without saying, but if you're someone who always puts off cutting the grass, try to remember to do it a bit sooner.
A freshly mown lawn sets a smarter impression for your arriving guests – and doing it earlier means less grass pollen should remain in the air to irritate anyone with hayfever.
6. Somewhere to sit
A garden party can work with everyone standing around, but over long periods, and especially when eating, it can be preferable to have somewhere to sit.
You might not be able to provide a chair for everyone, but have outdoor cushions and blankets to protect your guests against sitting directly on the grass – especially if it's freshly cut, as it could be more likely to stain their clothing.
7. Outdoor kitchens
A simple barbecue is no longer enough for some people, so don't be afraid to be a bit more ambitious when building outdoor countertops, or even installing a rustic outdoor sink.
Many barbecues fall foul of having nowhere to put the raw and cooked food, or the cooking utensils, but a brick-built surface alongside the grill is an easy way to overcome this.
8. Get it lit
It takes time for a barbecue to get up to cooking temperature – especially if you're cooking over natural coals, rather than gas – so make sure you're hot and ready if your guests are arriving close to mealtime.
Remember to have plenty of spare coal, firelighters and lighter fluid if you want your barbecue to last several hours at full temperature, and just in case you have to relight it after an unexpected downpour.
9. Take cover!
Nobody knows what the weather will bring, and summer in particular tends to have heavier downpours when the heavens open.
Have a backup plan in case of rain, whether you run for the safety of the house, or put your trust in a gazebo or canopy to keep the rain off.
10. Night lights
Alfresco entertainment can go on well into the night, so if you don't want to be using your phones as torches after sunset, be sure to rig up some lights.
Outdoor rope lights provide plenty of illumination from a single power socket, while solar lamps can brighten up an area if there's no mains supply to plug into.