Unexpected guests? It's time for a '10 minute tidy up'
We've all had it… that feeling of dread when you receive a call announcing you'll shortly be getting company when your home isn't how you'd like it presented (in other words, a right old mess!).
If this happens to you (and it's always when you least expect it) don't get in a flap because there are some quick and effective ways to make your home look like it's just been blitzed.
This week on the blog, we share our tips for a 'ten minute tidy up' which, when done in order, will get your house presentable super fast!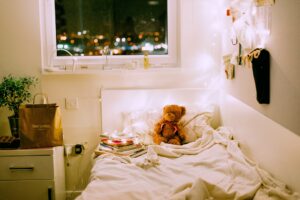 1) Follow your nose
First, light a couple of scented candles in the hallway, bathroom and living room. They'll start throwing out their scent and, by the time your guests arrive, there will be a welcoming aroma throughout your home.
2) First impressions
Consider the route that guests will take through your home. They'll come into your hallway when they arrive and probably end up in the living room or kitchen.
Follow their most likely route and note the things that would stick out to you: a pile of shoes, toys, dirty cups or plates, a discarded newspaper. Little things like this really draw the eye and look a mess.
Once you've got rid of this obvious mess, you'll be surprised at the transformative effect. You can create the illusion of a clean home, even if there are some big cleaning tasks outstanding!
3) Sweep clean
The aim of the game here is to tackle surfaces; you want to achieve clear results with minimal effort.
Don't waste valuable time tidying up or scrubbing where it's not necessary. For example, if you're only having someone over for dinner, forego cleaning your en-suite and focus on areas they'll actually be in.
4) Guiding light
Well-lit rooms look brighter and cleaner, so flick a switch, draw up the blinds or open the curtains for a quick fix with impact.
5) Don't leave out the bathroom
Whether they're staying for ten minutes or all day, your guests will probably need to pop to the bathroom to freshen up.
Grab a couple of disinfectant wipes and run over the bathroom surfaces. Give the loo a quick scrub if it needs it, and swish toilet cleaner around the bowl.
Draw the shower curtain if the tiles need some TLC. Messy chrome taps will give the game away, so pop on some rubber gloves, grab the bathroom cleaner and give them a once-over.
6) Fluff it
Vacuuming is a great idea, but if you're pressed for time, just focus on the furnishings.
Keep your rubber gloves on from scrubbing the bathroom, rinse them but keep them slightly damp. Run your gloved hands over cushions, sofas and soft furnishings to remove lint, fluff and pet hair fast.
7) A clear kitchen
If the washing up has fallen by the wayside, ensure all crockery has been scraped of leftovers and stack everything neatly. Got a dishwasher? Even better! Quickly fill it and get it running.
Spray kitchen surfaces with a light cleaner and wipe down with a damp cloth. Worried about the stinky kitchen bin giving the game away? Chop up a couple of lemons and throw them in the bin to mask unpleasant odours.
8) If all else fails…
If there's a lot of clutter in your social spaces; create 'organised mess' by constructing piles as neatly as you're able.
Run out of time? We promise not to tell if it all gets shoved in a cupboard, drawer or spare room until your guests have left and you've learned your lesson!
All joking aside . . . our lives are extremely busy, and from time to time the housework will get on top of us. Don't get too anxious about it; if someone is coming to see you, it's because they want to spend time with you, not judge you on the state of your house!
We are our harshest critics, so it's likely that when our loved ones drop in, they won't even notice that you've lapsed a little in homely duties. Fret not, and just bear this strategy in mind for next time!